By Mike Kuchar
With Frank Giufre
Offensive Line Coach
University of Connecticut
The pin and pull concept have mainly been considered to be used as a change-up. It has been used to supplement the wide zone, tight zone and gap runs already in your arsenal. But that philosophy is changing. Before we present our research on the specifics of the block scenarios involved with the scheme, there are certain tangibles that need to be taken into consideration before implementing the pin and pull as a fixture in your offensive play menu.
Advantages of Tagging Pin and Pull Runs
Uses high percentage down blocks to separate the defense. Not necessary to crush defenders, just to eliminate penetration.

Opportunity to get two pullers in front of the ball carrier.

Handles bigger defenders in the box

Gets the ball out in the perimeter. As Coach Giuffre told us, "the offensive line likes screens but this gets them running to hit a defensive back. It becomes fun. You're not trying to knock people off the ball."

Efficient red zone play because of the tight formation spacing.
Skill Set Requirement and Personnel Preference Needed for Efficiency
While with the Indianapolis Colts as an assistant offensive line coach, Coach Giufre used the concept mainly as a change-up for the Colts inside and outside run schemes. "It wasn't part of our identity because we were such an outside zone heavy team," he told us. "But if you have a running back that can navigate through space it can really put stress on a defense. You look at what Philadelphia Eagles have done (with LeGarrette Blount) and it's been astonishing." According to Coach Giufre, it may even make sense for high school coaches, to scrap the pure outside zone run and utilize inside zone and pin and pull because they may not have a back that can read the outside zone. "It may be easier to run the tight aiming points of inside zone with the pin and pull addition," said Coach Giufre. "Cut the defense with down, down pull. You may get your outside zone off pin and pull without using the NFL or college model."
With the prevalence of 4i techniques in Odd fronts, the pin and pull scheme can be reliant on down blocks at the point of attack while uncovered Guards can get out on the perimeter and make blocks in space. It seems to be extremely effective against teams playing heavy, inside techniques with a back that can navigate in the open field. "We like backs that can catch a toss then get his eyes up to his read," he said. "It can also be an excellent run with jet sweep motion to act as an eye distraction to the defense."
In most cases, Coach Giufre will utilize the pin and pull concept with both 12 & 11 Personnel groupings, but prefers it out of 3x1, 2x2, and 1x3 (Nub) formations.
Down (Pin) Block Technique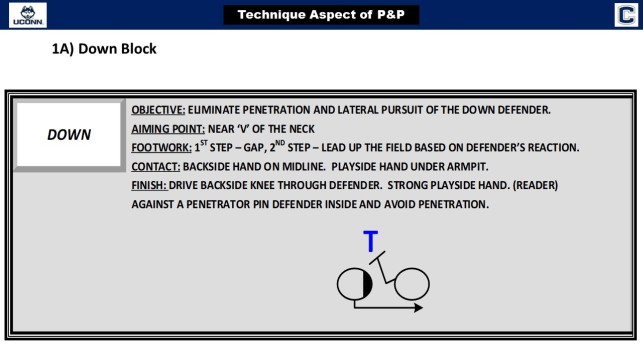 The concept of the down block is to negate penetration by working your hips around to block the defender. While some coaches teach a play side vertical step to account for any possible crossing of the face, Coach Giufre teaches a gap step with the first step. The second step is the lead step with the third step being the follow step. "On the gap step, we step with the foot closest to defender, while the lead step works slightly up the field," said Coach Giufre. "In our position step, we set our eyes to the aiming point (which is the near V of the neck of the defender). Eyes should be in near V of neck. Like baseball, we try to keep our eyes on the ball. If we get eyes to aiming point and our body will follow.
Coach Giufre teaches a strong play side hand to flip leverage if the defender tries to get around him. "If we try to pin him and he runs outside, I step and take my inside hand and throw a shot put and accelerate him to sideline to open up the hole," he said. "You need to know your personnel. If he is a penetrator, bring heavy hands and get your eyes on that near knee and bring your feet to displace him. These defenders can't knock off a puller. If he's a reader, be cautious on the first step and get second step on the ground to be prepared to flip hips."
Pull Block Technique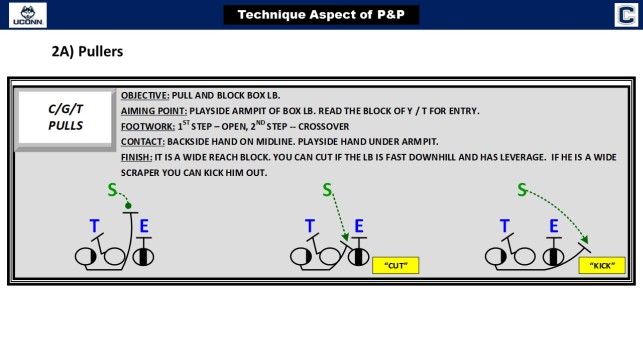 The footwork for pull blockers is taught as an open, crossover progression. Pull blockers will open their play side foot (Coach Giufre calls it a 'wedge step') and crossover with the backside foot. "It doesn't matter if their shoulders are turned," he said. "If they open up a little bit it helps them sift things out. The ball is out of the box anyway. It's not like counter or power scheme." As far as the strike point goes, Coach Giufre teaches a double under technique (made famous from John Strollo and Jim McNally lectures) on contact. "Rather than pushing a guy, you're lifting him," If you can get hands underneath and lift shoulder pads it chokes defensive linemen. They will naturally stand up to find air." Once the target is identified (which is usually the first defender past the identification) there is no shimmy, or no entry point through the line. It's a complete run. There are two types of blocks synonymous with these assignments:
Cut block- offensive lineman's backside shoulder through defender's legs.