By Mike Kuchar with Mike Hallett
Co-Offensive Coordinator/Offensive Line Coach
University of Toledo (OH)
Twitter: @coachhallett
At the University of Toledo, every offensive lineman is taught to pull. Sure, it's an advantage that stems from recruiting and its reaped its benefits particularly in offensive line coach Mike Hallett's run game. Since his days as the head coach at Heidelberg, Coach Hallett has been a huge advocate of the mid-zone run concept but when he entered the MAC he noticed that too many defenses where posing problems with 2i defenders not allowing combinations to get to the play side linebacker. "There were too many grey areas and you're going to wind up exposing somebody," he said.
So, in order to create divides in the defense, he started to build in an adjustment by treating it like a man scheme, pulling the Center to the front side of the play and zoning it on backside. He'll use it out of 11 personnel groupings, where the Y is responsible for the front side +1 defender. The quarterback is responsible for the backside C gap defender. "We will teach mid zone as open side run, then incorporate Y to frontside, said Coach Hallett. "We like the ability to run 11 personnel run game out of fast tempo," said Coach Hallett. "If you start subbing people the defense will start subbing people.
Identifications:
The F-Mid zone is adjustable and combined with look tempo, often times being checked to the more favorable inside (low) shade. All pullers are communicated to the front side using the following verbiage:
"On Call"- This tells the Guard to down block a 2i technique, while the Center works for the play side linebacker.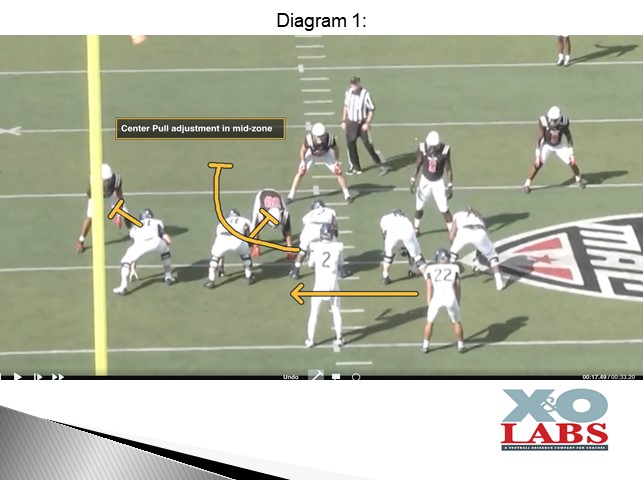 "Wrap Call"- This is an answer against pressure and alerts the Center he's working around possible movement to the front side linebacker.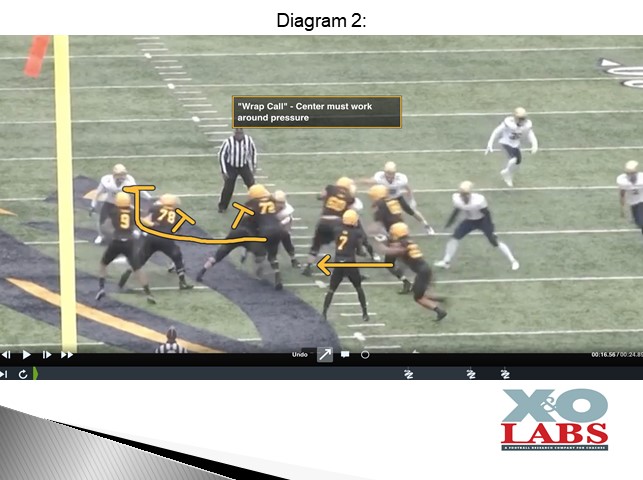 "Cage" Call- Center and Guard are able to work together in a zone combination. This is mainly used against 3/5 techniques play side.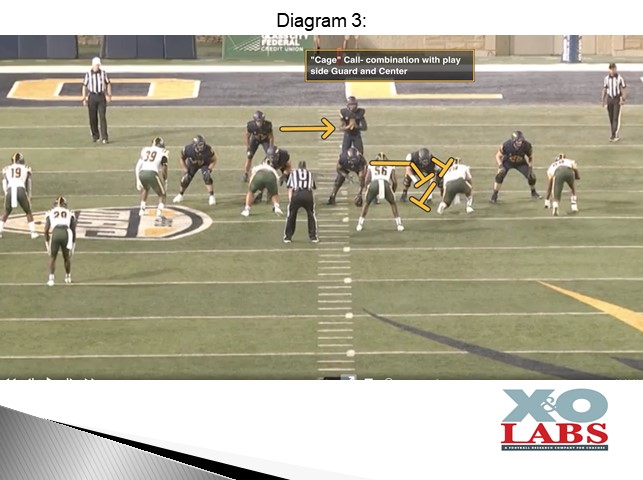 RB Tracks and Aiming Point:
Coach Hallett prefers to use the mid zone from sidecar alignment, because the quarterback is responsible for the backside. And, the angle of the back is going to affect the angle of the linebacker. Quite simply, action across the ball creates flow linebackers, which accentuates the possibility of denting the defense north and south.
So, the back is taught to work two steps past the mesh and "figure it out." Like most outside zone schemes, the back is going to read the first thing outside the Guard but keep tempo with the Center who should be on the play side linebacker. It's expected that the play side Tackle will stretch the C gap defender- more on that below- so he's looking to crease the play in the B gap. "We work hard on trying to identify the defense and predict which puller is getting out on the play," he said.