By Mike Kuchar
Senior Research Manager
X&O Labs
Twitter: @MikekKuchar
Introduction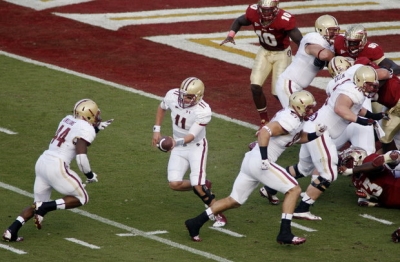 It may have been last spring when sitting at an exclusive "high school coaches" only clinic with Boston College head coach Steve Addazio when I was enlightened into the origins of utilizing gap schemes from open sets.
Coach Addazio, who won two national championships as Urban Meyer's offensive line coach at the University of Florida, recalled a conversation he once had with Coach Meyer before the first championship season in 2006. "I remember thinking that we didn't have the size up front to go toe-to-toe with some of the defensive units we faced in the SEC that season," Addazio recalled. "We couldn't just hang our hat on the Inside Zone play. So, I called Urban and told him we'll need to do something different. We knew we had an abundance of speed on the perimeter and at our skill positions, so we didn't want to commit to a whole sale change of bigger personnel groupings. But, we had to create angles and generate misdirection up front."
The answer lied in using down/kick principles up front, but at the same time keeping speed on the field. So, Coach Addazio and Coach Meyer went to work in keeping 10 and 11 personnel groupings to run concepts like Power and Counter.
The results spoke for themselves. Two rings later, Urban Meyer and Steve Addazio's Gators created another viable options for spread offenses to effectively run the ball. Fast forward nearly a decade later and FBS programs such as Auburn University, University of Mississippi, University of Houston (to name a few) and Coach Meyer's new staff at The Ohio State University have used these Gap concepts from single digit personnel groupings to establish a dynamic run game. The fact is, Gap run schemes from Spread personnel groupings account for over 50 percent of the run game implemented in Spread coaches' menus (Graph 1 Below). Of these coaches, 54 percent averaged between 5-6 yards per carry on their single and double pull Gap concepts (Graph 2 Below).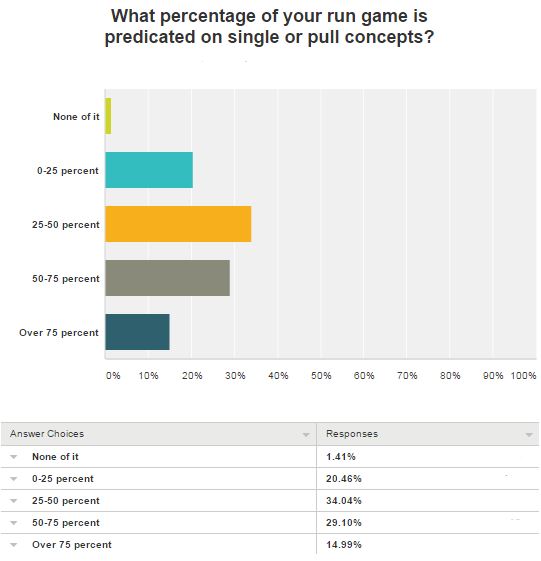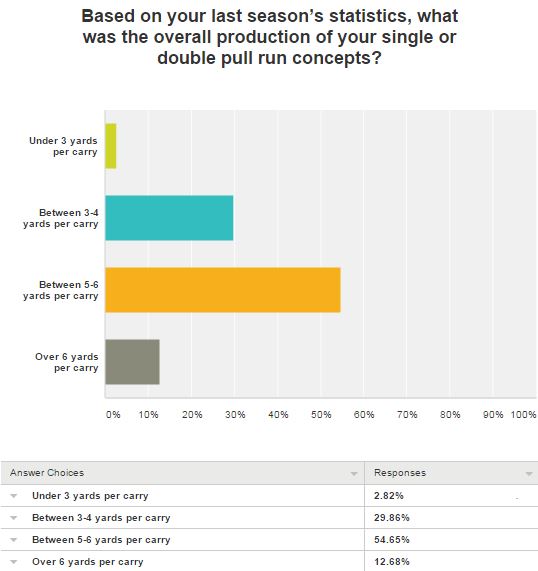 This study is centered around the three main Gap schemes offensive coaches are using from Spread personnel groupings, which we classify as the following groupings:
10 personnel (one back, no tight end) (Diagram 1)

11 personnel (one back, one tight end) (Diagram 2)

20 personnel (two backs, no tight end) (Diagram 3)

00 personnel (no backs, no tight ends) (Diagram 4)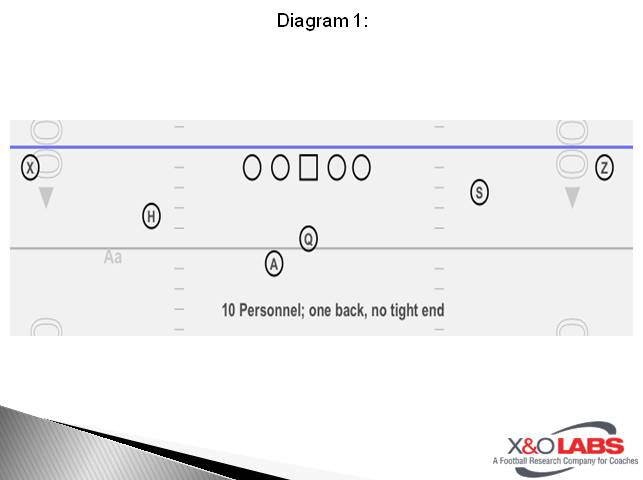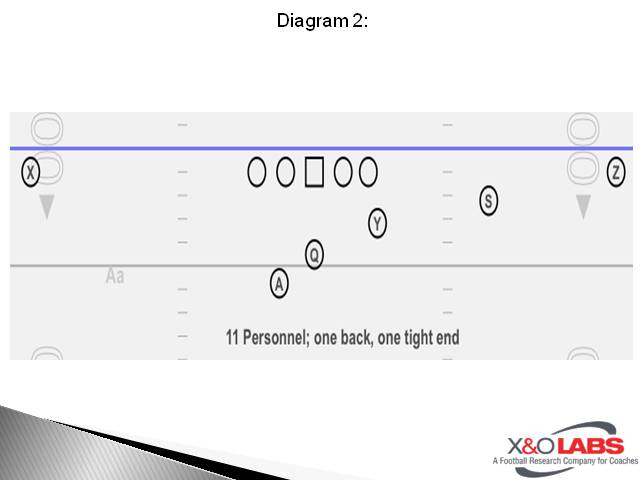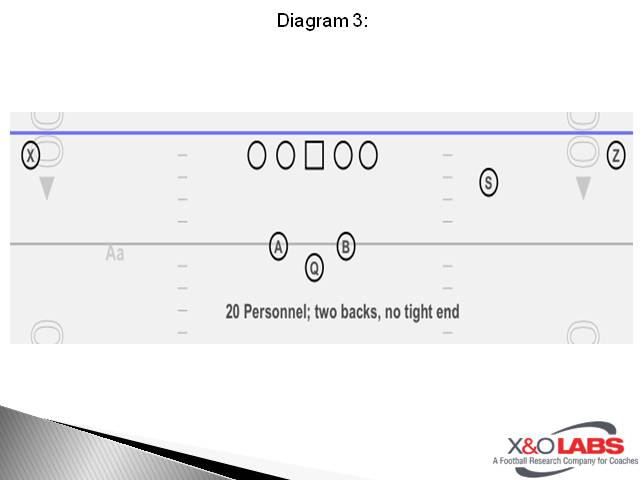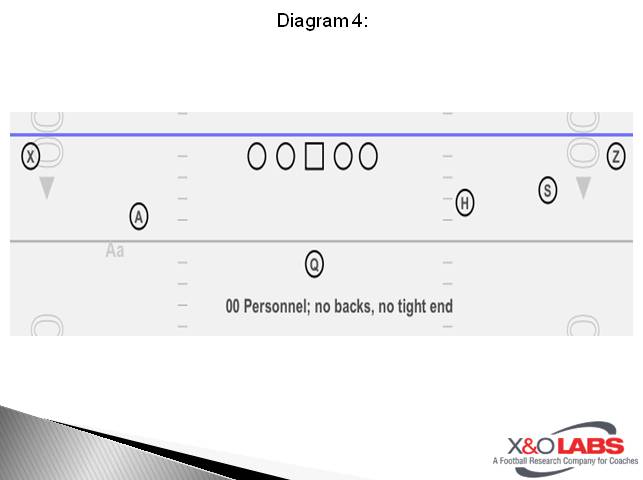 These run concepts consist of:
The one-back Power concept (Diagram 5)

The one-back Counter concept (Diagram 6)

The Buck Sweep concept (Diagram 7)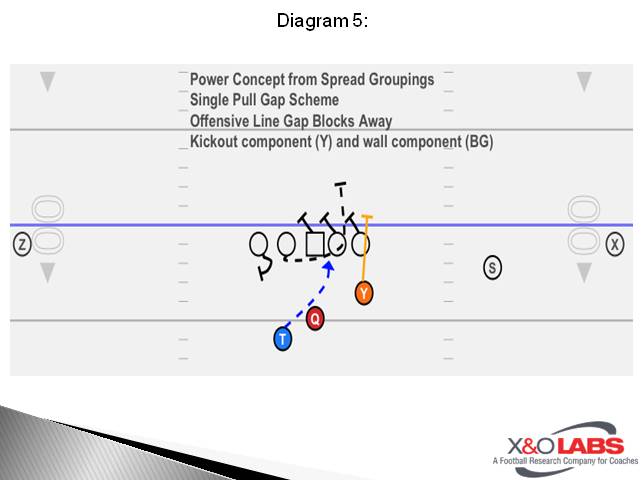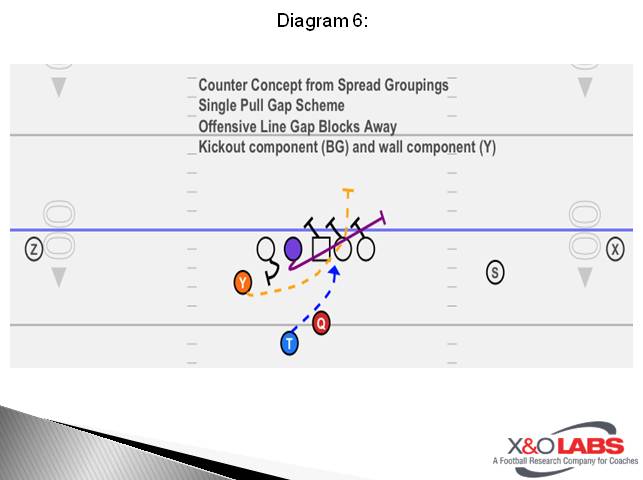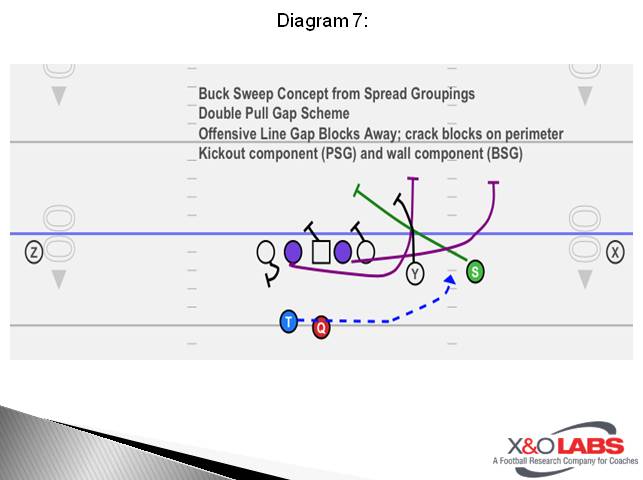 While each of the following cases in this study deal specifically with these particular run concepts, we wanted to compartmentalize our research in this case by singling in on the types of blocks that these Gap concepts utilize and how successful coaches are teaching these types of blocks to their players. Some of the coaches we spoke with use all of the three run concepts above, while others use one or two of them. Whatever gap concept is utilized, the following types of blocks must be utilized:
A single down block or back block such as Center would execute on a back side 3-technique (Diagram 8).

A double team block at the point of attack such as guard and tackle on a play side 3-technique (Diagram 9).