By Joe Osovet
Offensive Coordinator
Nassau Community College (NY)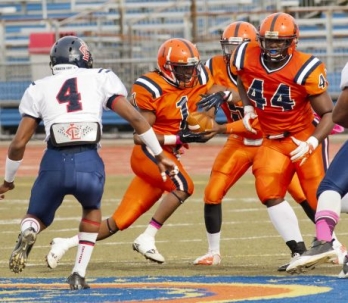 Editor's Note: Known too many as an "Offensive Innovator" Joe Osovet serves as the offensive Coordinator at Nassau Community College in New York. During his time there, his teams have had tremendous offensive success and finishing at the top of the division rankings. Joe pioneered an innovative spread offense in 2012 to lead the NJCAA in most offensive categories. His highly effective offense produced two thousand yard rushers and garnered a top ranked scoring offense which averaged over 41 points per game. Joe Osovet is a much sought after keynote speaker on his spread offense. He is a regularly featured speaker at Glazier and Nike Football clinics across the country. Joe brings charisma, energy and devotion along with his 18 years' experience to the coaching profession.
Our rushing offensive philosophy here is to incorporate as many triple options as we can in unconventional ways thus keeping the defense out of their comfort zone and forcing them to play assignment football. For two consecutive years now Nassau has been one of the top rushing teams in the country. Our successful rushing attack led to two thousand yard rushers in 2012 averaging over 272 yards a game and over 236 yards a game this past season. The success our running game has had the past couple of years is directly related to what we call our package or plays.
Nassau Packages
When we create our packages, we are combining either a run / pass option or a run / run option all based on what the defense is doing. Again, we want to ensure that the defensive can never be right and gaining a numbers advantage at the point of attack. We also believe that these packages help our quarterbacks by providing them with anoutlet to go with the football.
The process starts with us combining a quick pass or sprint pass with our base power run game. We look at the concepts and who they effect to allowing the QB to throw on the run off of a crashing defensive end (which we call the "Bender") while attacking the alley. We wanted to incorporate more than just the "stick/draw" concept that is rather prevalent. We found that the possibilities are endless and is all predicated on the defender you are trying to read or manipulate.
Trey Read as a Play Package
One of the most successful play packages we incorporate is our Trey Read concept. This package combines our Trey Read counter scheme with secondary manipulation and the ability to run speed option out the back door. All plays/variations within this package are based on reading the backside defensive end which we call the "bender." The Trey Read can be run out of any personal grouping. It creates the illusion of complexity but in reality to execute this package is quite simplistic.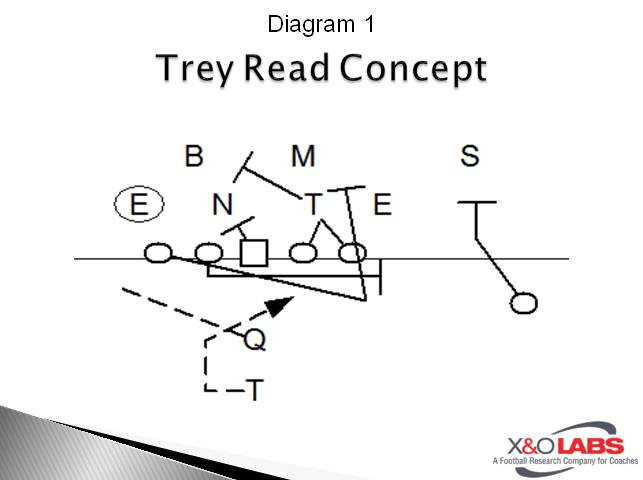 Base Trey Read Rules:
Y: Arc & close to anything that crosses your face (Cruise Technique)
F: Attack "C" gap defender (cannot be the DE Cruiser)
TB: 6 inch stretch step, follow Playside Guard and Playside Tackle. Don't rush "slow to-fast through." We teach our backs that they are responsible for the mesh point not the QB. We want our QB to see the entire picture on the edge such as gap exchange, zone pressure. etc.
If in (Red/Blue or East/West) drop step, get into 3x 5 pitch relationship, you have Speed Opt out back door vs a "Bender" or chasing defensive end.