By Mike Kuchar with Brian Armstrong
Run Game Coordinator/Offensive Line Coach
Montana State University
Twitter: @CoachArmy
Montana State has continually been at the top of most FCS rankings, including playing in the title game in '21 against North Dakota State. This consistency has been built off the run game, where the Bobcats have continually developed it's gap read and counter read concepts to produce maximum efficiency. This season they averaged over 300 yards a game on the ground, including 6.58 yards per carry, many of those on these gap read concepts where its quarterback averaged 88 yards a game.
Coach Armstrong has developed the power and counter read concepts to where any player in the program (running back, receiver, etc.) and run them. He has even lined up wideouts that may have some quick twitch in the backfield to run the concept without using motion. It's a true commitment to running the scheme, regardless of the personnel. And when you watch Bobcats film it's apparent that Coach Armstrong has a willingness to run the scheme regardless of the defense or the formation.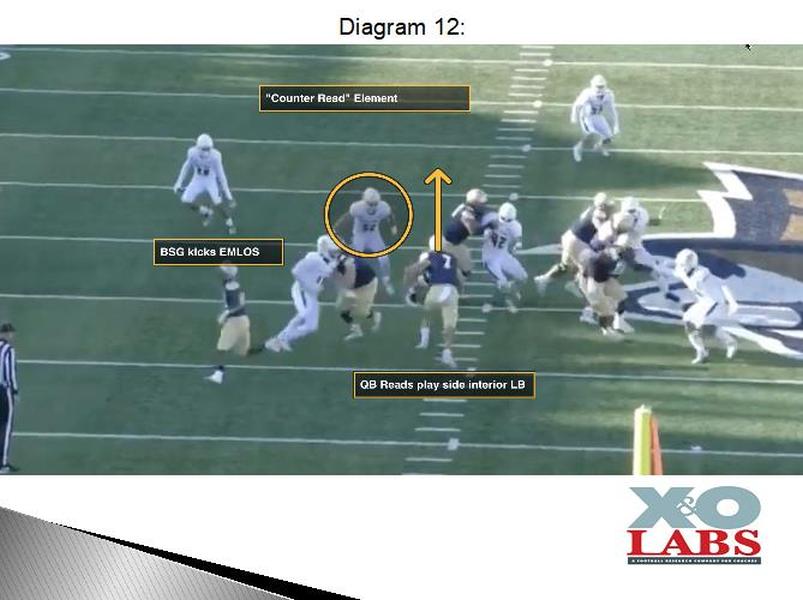 Formationing the Play:
Although the Bobcats will use the power/counter read from any formation, Coach Armstrong believes the best way to build is in 3x1, because the numbers are equal. It forces the Mike linebacker to run down the horizontal element of the play. Most of the time, it's a win for the offense. And when it's not, Coach Armstrong has an answer, which we'll get into later. Using 3x1 open as a base, Montana State will also run the scheme from the following formations: