By Curt Fitzpatrick Offensive Coordinator/QB Coach Utica College (NY)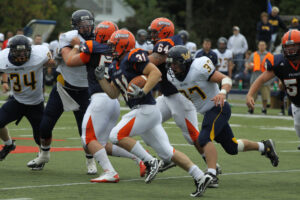 "Over the past few seasons our offense at Utica has been effective at throwing the football out of our one back formations. Therefore, we have faced more and more defenses that employ a 2-high safety structure, leaving fewer defenders in the box at the line of scrimmage. When we see this, our eyes light up because we know that we're going to get the count we're looking for to run the football effectively." Curt Fitzpatrick, Offensive Coordinator, Utica College
On behalf of our Head Coach Blaise Faggiano and the rest of the staff here at Utica College, I'd like to thank X&O labs for giving me the opportunity to contribute this clinic report to the new website. The work that X&O Labs does in researching and sharing information with football coaches around the country is tremendous. It is truly an honor to be a small part of all that they do for our profession. For this report, I'd like to share with you the best way we utilize the Power O play; the one back Power.
The Power O scheme has been a proven winner in the game of football for many, many years. However, long gone are the days of everyone running this play out of strictly two back formations. More recently the Power O has evolved into a scheme that is utilized by both pro-style and spread offenses alike. With many teams moving towards an offensive philosophy that utilizes the skill set of a more athletic quarterback, the Power scheme is being seen more and more as a "read" concept, which adds to its reputation as being an effective "attitude-type" run play. The point being, Power is a versatile blocking scheme that can be used in a variety of ways, as well as in the red zone and goal line scoring areas. In 2010, the Power O scheme accounted for approximately 35% of our run game out of various formations and personnel groupings. About 20% of our runs were of the one back Power variety. For us, the one back power gives us a physical down-hill run play that can be run out a variety of traditionally "pass heavy" formations.

As a back drop for this report, I think it's important first to know what our offensive style is and how the Power play fits into our overall scheme. While we do use bigger personnel groupings at times, we are primarily a one back offense that utilizes a mixture of 12, 11, and 10 personnel. From a player standpoint, we currently do not have a QB that we feel comfortable running "read" type plays with, therefore the new age Power front and back side read schemes that many spread teams run do not apply to us. I believe that this is an important point in solidifying the use of this blocking scheme in any offense. You can find a way to utilize the Power O with whatever type of personnel that you have! Over the past few seasons our offense at Utica has been effective at throwing the football out of our one back formations. Therefore, we have faced more and more defenses that employ a 2 high safety structure, leaving fewer defenders in the box at the line of scrimmage. When we see this, our eyes light up because we know that we're going to get the count we're looking for to run the football effectively. Formationally speaking, we run our one back Power play out of both 2x2 and 3x1 sets, however there are a couple different criteria that must be true out of any formation in order for us to run this play:
We must run the play to a TE side (at least a 3 man surface). We also could choose to add a slot receiver (TE Trips) via formation or motion to create a 4 man surface so that we can account for a possible 4th defender to the play side.
We must have an even count to the play side in order for us to keep the play on. For example, if we have the play called to a 3 man surface the QB must verify that we are getting an even amount of defenders to that side – our 3 vs. their 3 (See Diagram 1). Conversely, if we are out-numbered at the point of attack the QB must recognize this as a bad situation and check the play into a more advantageous run or pass based on the game plan for that given week – our 3 vs. their 4 (See Diagram 2). As I mentioned earlier, one way that you can account for that 4th defender is to create a four man surface to the play side by motioning into a 3x1 formation so that the slot receiver can account for that edge player (See Diagram 3). You could also call the play out of a 3x1 formation to begin with, giving you a 4 man surface to work with right off the bat (See Diagram 4). If you have a slot WR that is a physical blocker this could be a great matchup for you, or it could be a nightmare if that guy isn't willing to be physical blocking an OLB/Safety type player.
Now that we've looked at some different formations, motions, and defensive structures that are conducive for running the one back power play, let's talk about the overall emphasis of the play and some of the blocks at the point of attack that make this play successful. The thing that I like best about this play is that it brings with it a "nastiness" up front like the Power O scheme always has. For our offensive line, we install this play just like if we were running it out of 22 personnel or on the goal line, with a physical mindset. Our goal when running the one back Power is to remove defenders from the box by formation, then separate the defense with a physical gap scheme that allows for a double team at the point of attack.