By Rick Lytle
Offensive Coordinator
Euclid High School (OH)
Editor's Note: Coach Lytle is serving as the Euclid High School Offensive Coordinator where he has served in that capacity since 2000. Prior to that, Rick was the head coach at Beachwood High School from 1998 to1999. He started his coaching career with six seasons at Lake Catholic where he served as Offensive coordinator (1995 – 1998) and QB Coach (1992 – 1994).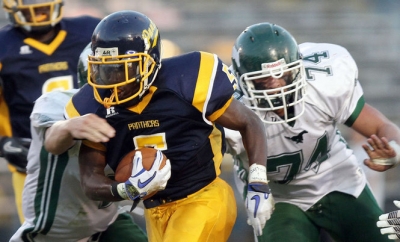 It seems everyone runs some version of the "Power" play. Some may describe it as a counter play but since we do not have any counter action in the backfield we have just called it our power play. My concept of a power play is when the front side of the line blocks down, somebody kicks out the front side "C" gap player and somebody will lead through from the back side to a front side linebacker. So whatever you want to call this play it is a downhill aggressive play that when we run it well we are tough to beat. When we struggled to gain yards on this play then we struggled as an offense to move the football.
I have been coaching for over 20 years and the power play has always been a big part of our offense. We used to run from under center but we now very rarely get under center so we now run it out of the pistol formation. Two years ago we made the switch from putting the back to one side of the QB in the shotgun to now we are in the pistol formation most of the time. We made this switch for a variety of reasons. Two of the biggest reasons were we like to run our QB and that is hard to do from under center. Second reason was we like the idea of our back coming down hill and the pistols allows that to happen.
I would like to share a few philosophical reasons why we like this play and then I will get into the specifics of how we teach it. Also through this article I will share the following topics pertaining to this play;
Personnel grouping

Formation we will use

Responsibilities of each position

Variations & adjustments
Philosophy: