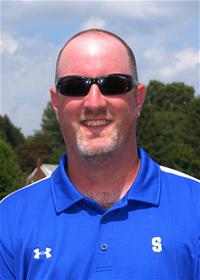 "Our goal for this trap play is to get people thinking jet, get the defense moving laterally, and use the QB trap away from that motion." Dan Ellis, Head Coach, W.C. East High School
By Dan Ellis Head Football Coach W.C. East High School
Researcher's Note:

This is the second report in X&O Labs' QB Runs Series by Dan Ellis. Coach Ellis is documenting his most effective QB runs: The QB Power Read, QB Trap and QB Midline.
We are a shotgun, fast pace, no-huddle offense with a zone scheme – and we also will add pistol in as well. This allows us to take advantage of our athleticism and numbers at the skill positions and it uses our supposed "weakness" – smaller, more athletic lineman – to our advantage.
With our offense, our QB must be able to run the football and be a weapon that the defense must account for. He does not need to be a 1,000 yard rusher; he just needs to keep the defense honest with his feet.
One of our key QB runs is our trap off of jet action. We run jet motion and jet a lot throughout a game. Our goal for this trap play is to get people thinking jet, get the defense moving laterally, and use the QB trap away from that motion. This gives us a great counter. Our QB series of runs hits to the same side of the action with our QB Power, the QB Midline hits the middle of the defense, and now our QB Trap hits away from the action. All three plays give the added benefit of using the QB as a true threat.