By Mike Kuchar with David Weeks
Tight Ends Coach
Fordham University (NY)
Twitter: @davidweeks34
"The 10 Personnel Difference"
As a base 10 personnel outfit, Fordham University uses spacing and leverage to attack defenses. A former analyst under Tennessee head coach Josh Heupel, Coach Weeks and the offensive staff under the direction of coordinator Kevin Decker relies on 10 personnel to force the hand of defenses. In this fashion, quarterbacks are able to identify and get out of plays against loaded boxes and they are also able to notice one high vs. two high structures.
Fordham uses two base formation structures in its 10 personnel catalog, 2x2 and 3x1. But in order to generate the spacing required in 2x2 open formations, the outside receiver is told to midpoints the numbers to sideline while the inside receiver's landmark is the top of the numbers.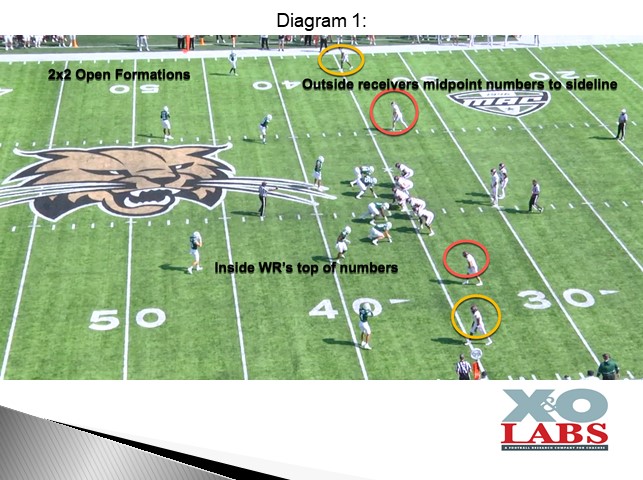 In 3x1 open formations, the single receiver midpoints the top of numbers and sideline. To the field, the inside receiver is splits hash and numbers, the middle receiver is in the divide and the outside receiver midpoints the numbers and the sideline.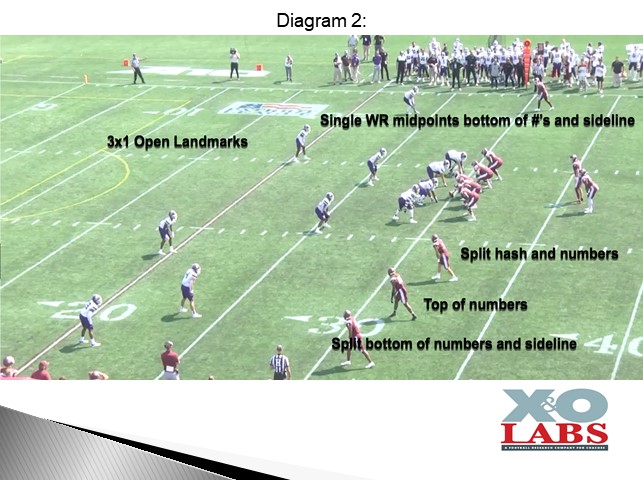 QB's Pre-Snap Thought Process: "Loaded vs. Unloaded" Run Box
Like most RPO outfits, Fordham triple calls all of its RPO concepts based on the following progression "Gift, Run, RPO." But while most players term the "gift" to the X in the boundary, Fordham inverts its call system by positioning the gift to the field. And the gift is generated by some quick game concept such as fade out, double hitch, etc. The quarterback will look at who is tightest to the box. "They read grass, not defenders," said Coach Weeks. If the field overhang is wide enough to the field, the boundary RPO menu is activated. In the picture below, the field option is a "No."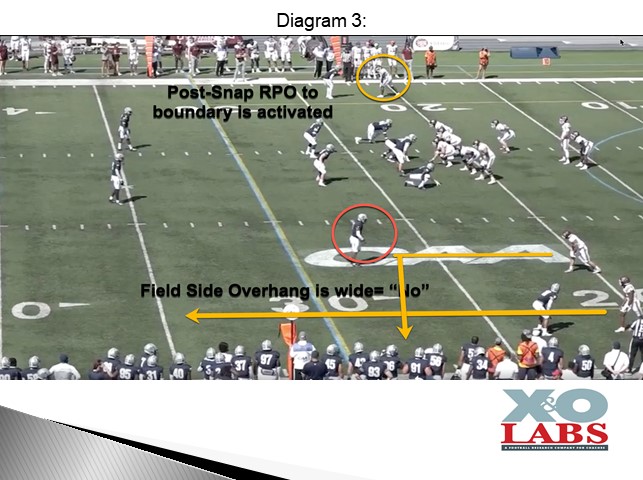 Then, the QB's eyes will transition to the run box to identify either what Coach Weeks calls a "loaded" or "unloaded" run box.
Any five-man box is considered unloaded, so the run element of the RPO could be activated.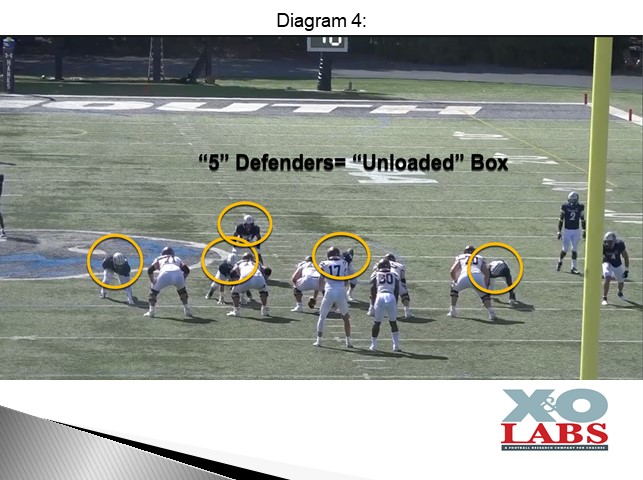 Any six-man box is considered to be "loaded," so now a defender needs to be read.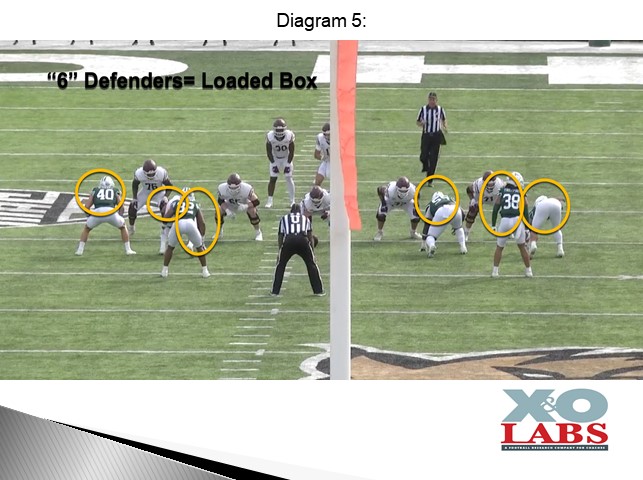 And when it comes to designing the post-snap RPO element, much of it is determined based on if defenses are fitting to the back or away from the back. Understanding this helps get the quarterbacks eyes in the right spot. So, when defenses are fitting away from the back- as many defenses do- that's when the QB has to use opposite side footwork in the RPO component- more on that later.