By Mike Kuchar
Senior Research Manager
X&O Labs
Twitter: @MikekKuchar
Special reporting by Adam Hovorka, X&O Labs Contributing Writer
Introduction
One of the more current branches growing from the RPO tree is the implementation of screen concepts that are attached to the drop back pass game. It's probably one of the newer trends in the RPO menu. According to our research, only 39 percent of coaches are attaching screens into their pass concept menu.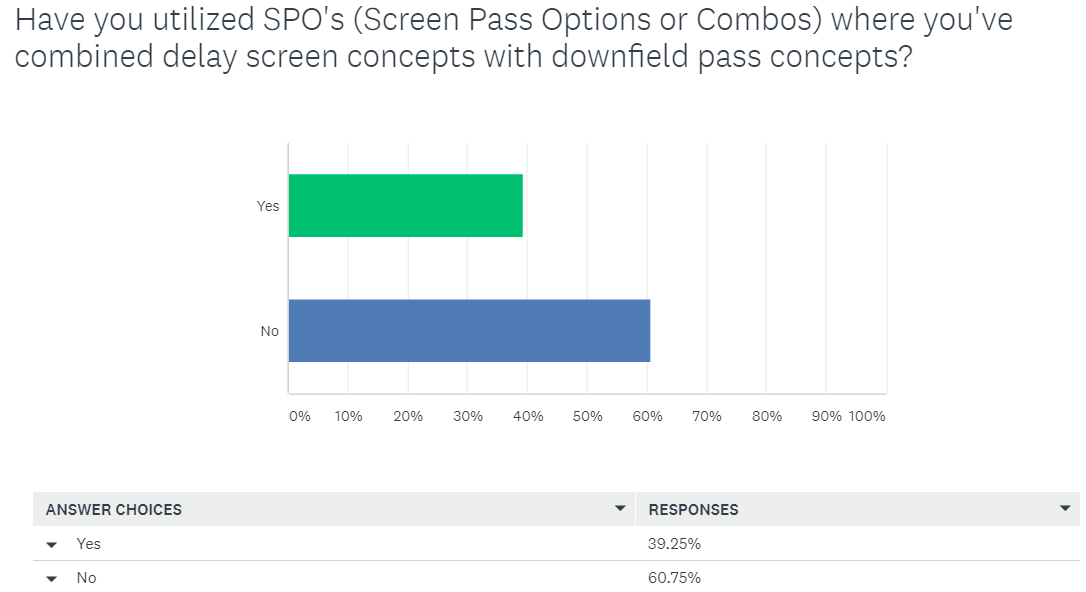 To be clear, a PSO (pass/pass option) couples a quick game to the concept side (such as stick, snag or shallow) with a delay screen to the running back on the backside. These take the place of any other backside options such as a free access throws to the X or a two-receiver mirrored concept progression. According to coaches, there many advantages to attaching backside screens into the pass game menu. Some of the more common benefits we found are below:
Benefits of Utilizing PSOs:
It takes advantage of pass rush and pressure.

It slowed the rush down and provided a big play without throwing the ball down field.

It allowed the QB to have multiple options without having to run.

It helped with having younger QBs in gaining their confidence to throw an easy pass.

It helped the QB to read more quickly and kept the tempo of the offense move smoother and more efficiently.

It allows for a plus one advantage when the QB makes the right decision.

It forces defenses to play vanilla defense.

It forces the QB to not hold onto the ball too long and gives a play with good coverage a higher percentage throw.

It's a way to protect the base runs or RPOs already implemented in an offensive system.
Editor's Note: The PSO concept is embedded into the offensive system developed by University of Arizona offensive coordinator Noel Mazzone. All of our sources for this case are NZone members. To access more information on Coach Mazzone's system, click here: http://nzonefootball.com/
Best Practices: Ideal Situation
Our research has shown that 65 percent of coaches use PSOs on 10 percent of snaps or less.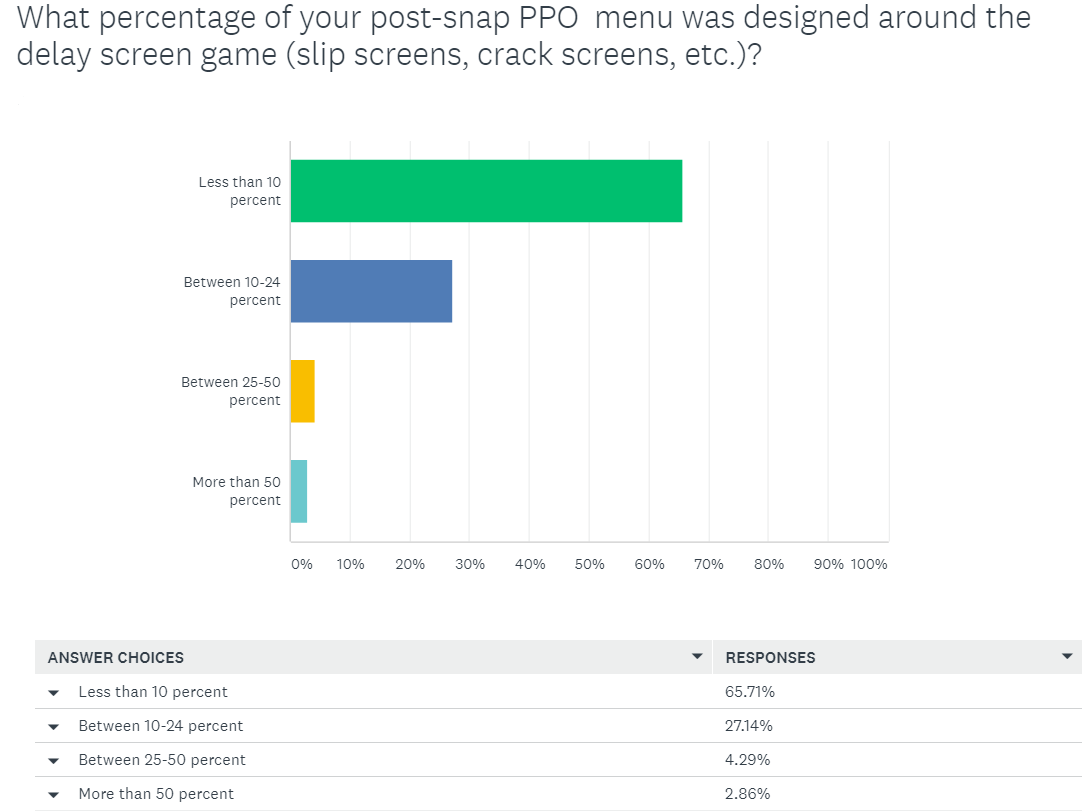 But when utilized correctly, PSOs can provide an easy catch and throw for the quarterback to the quick game side or a big hitter on the screen. Victor Valley College (CA) head coach John Teuscher boasted about a 79 percent completion percentage on these concepts, much higher than any other concept he had in his arsenal. One would assume the high completion percentage can be useful anywhere on the field, but we did find certain circumstances were more beneficial than others when using PSOs among our sources. Here's what they told us:
Noel Mazzone, offensive coordinator, University of Arizona: "It's good as an opener on first and ten and good in the mid-red zone, inside the 20-yard line or inside the 25 yard line. But you don't want to call it against man teams. You need to run the boundary or crack screen against those situations. If it's pure man coverage, we'll tie in a man beater and attach a screen to it."
Bobby Acosta, offensive coordinator, Bucknell University (PA): "For us this is a man beater when RPOs are not working. When our RPOs are dead, we lean on PSOs. We attach them to our bubbles, meshes and quick game. But usually we call the screen because we have thrown the pass concepts a few times and we see the defense has adjusted or done a great job reacting to the pass concept. We also see more man, so the screen is a man beater for us."
John Teuscher, offensive coordinator, Victor Valley College (CA): "Everything goes with how we decide to attack that team that week with our base runs and RPO game. It's an extension of our run game. We want to protect our base pass things that we do. It is a way to protect what we do, teams will be slower to how they run our base things. Teams know we will run these concepts and we find ways to be able to run them. This is great stuff against even fronts that will run two high coverages like 4-2-5, 4-3 is great. We will run this against everything primarily against any two high. We love this against pressure, the screen makes that very advantageous, even the pass part is good against pressure because of how quick it is."