By Rich Holzer
Head Football Coach
Mount Saint Joseph High School (MD)
Twitter: @CoachRichHolzer
Here at Mount Saint Joseph HS, we as a staff adapt our version of the Gael Attack to what our personnel dictates every year. However, one of our newer concepts just installed this year, developed off a similar concept developed after much film study of the University of Hawaii's offense during the off-season. We have seen a large uptick in the number of man coverages to combat our RPO game or not allow us to threaten defenses vertically. We were looking for answers and found what we refer to as our "Rub" concept. We use this concept to counteract those teams who try to play us in 1 high to stop the RPO or 2 high man to negate our vertical pass game.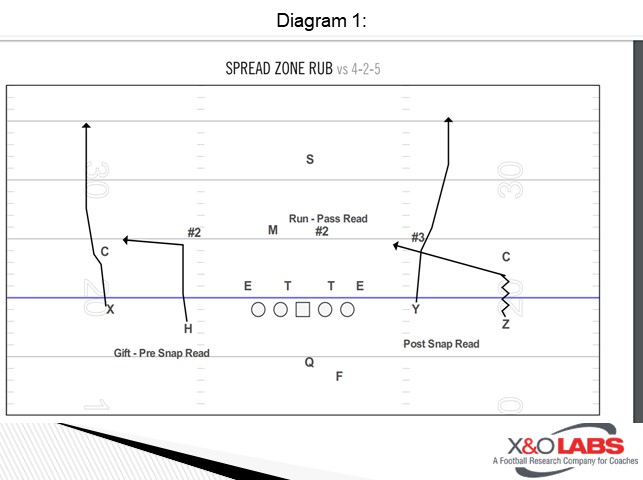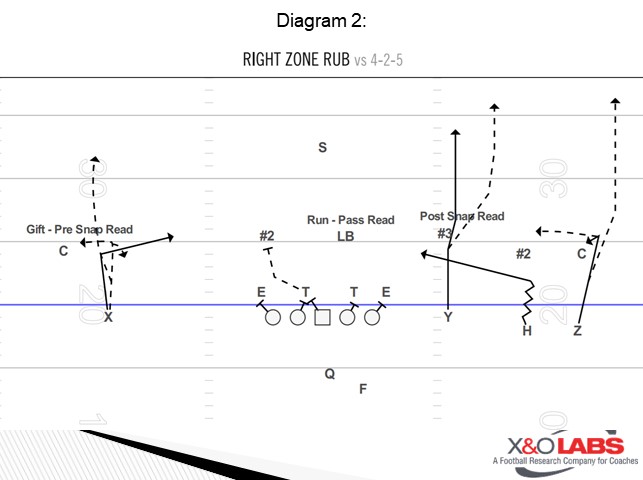 The "Rub" concept is a very inexpensive way to threaten a defense with the RPO and has answers for both zone and man coverage. Our preference is to run it out of 3x1, but we can run it from 2x2 as well. From 3x1 we place the single WR on a "Gift" and the "Rub" to the field. Out of 2x2, we place the "Rub" on one side with a quick game concept to the other.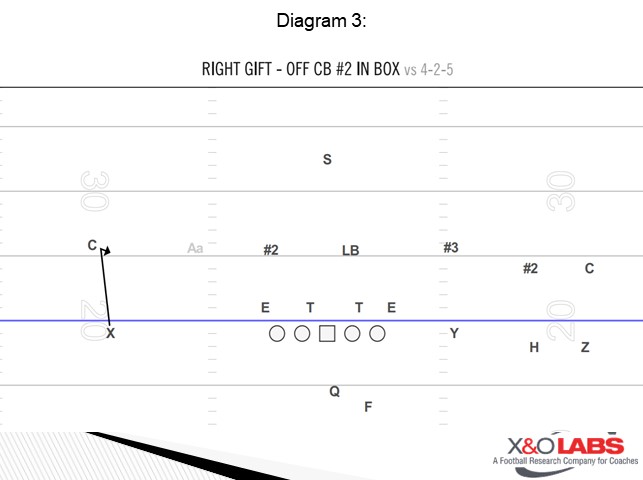 Out of 3x1, we place the single WR on what many refer to as the "Gift" throw. He runs a 6yd Hitch by default but can convert to a Fade, Quick Out or Slant based on CB depth and LB leverage pre-snap. We do not post-snap adjust the "Gift" unless we are running the Fade and the CB press bails. In this case, we look for the back-shoulder throw.
To the 3-receiver side, we are running our "Rub" concept. The assignments are as follows:
#1 - Hitch Read: Push to 6 slam your foot and turn. If they press convert to a fade. If it is a tight man from an off position, roll corner or a buzz Alley player situation break inside on an "Under" route that does not cross the hash. 
#2 - Rub: Delay-off the line. We teach our WRs to attack the leverage of the cover down defenders and use his reaction against him. We spend a lot of time in our passing game in general teaching WRs coverage, leverage, etc. He will use a delayed, "skippy" release to technique to set the defender up for the "Rub" and to turn his hips as well as freeze his feet. After we break hard inside on an angle off the butt of #3. We like to stay as steep as possible to keep us away from any inside LBs reacting to the throw.
#3 - Seam Fade: Our #3 will force the outside release on the cover down with speed. His job is to attack and run through the outside shoulder of his defender, clear his hips, then turn his head for the ball. It is very similar in technique to our route on our Go concept, which is a version of the old Run and Shoot concept.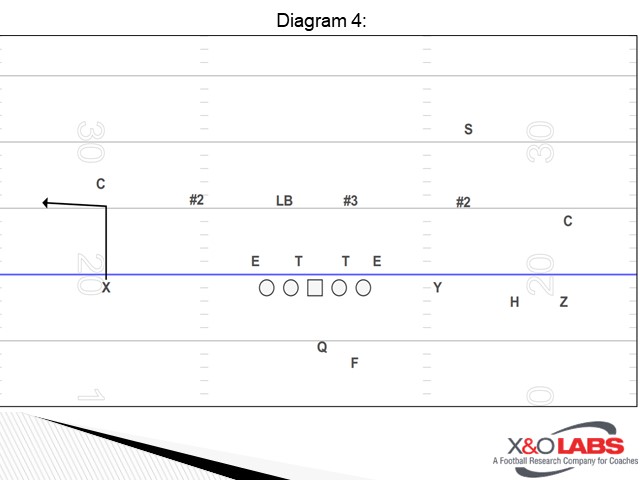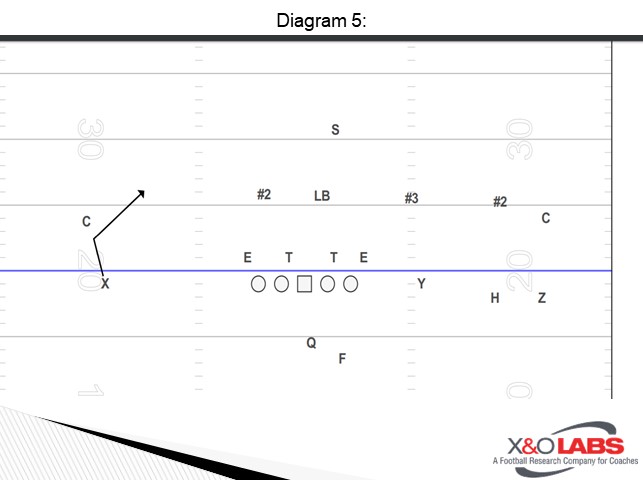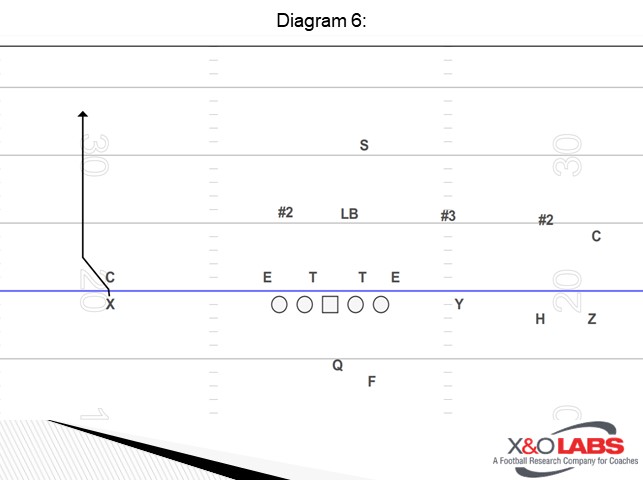 Our QB is trained to view this the same way every time we run a 3x1 RPO regardless of run concept or RPO attachment. I "borrowed" this from Coach Pat Murphy at Rhode Island. We tell our QB "Find 2, Find 3, Run the Ball". What this means to him is to look at the single WR. Where is #2 from the boundary is, he in the box or is he out. If he is in, throw to the single, can hand signal adjust the route. If #2 is out of the box, we ask ourselves the following questions:
How far?
How deep?
Can he affect the route?
If he "kills" the single WR we move on to finding #3 to the 3 WR side and his relationship to the #2 man. After that we ask ourselves similar questions about #3 starting with is, he in or out of the box? If he is out of the box, we have a 5-man box that dictates hand the ball off. If he is in, he becomes the "give/ pull" key.
If #3 gives us a pull read, we and we pre-snap read #2 and 3 in man or 2 high zone we are going to take the "Rub". If #3 gives us a pull read and pre-snap #2 is up with 1 high, we peek the man over the seam before throwing the "rub". Sometimes we catch the defense in 1 high and the man over #3 cheats to jump the "rub" resulting in a big play to the seam.
Lastly, we always keep a close eye on how the defense is playing the #1 field side. If they are playing off, we will remind the QB in-game about the field side hitch. If they are pressing and we like the matchup, we take a shot. If it is man, we check to see if we can tag #1 on an Under route and have the QB read Rub to Under like our Levels drop back concept. However, this is a long throw so it depends on our QBs arm whether he can make that throw.
To study game film of this concept, click on the video below: