By Mike Kuchar
Senior Research Manager
X&O Labs
Twitter: @MikekKuchar
Introduction: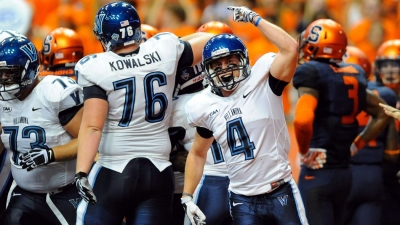 When conducting our research on RPOs, we noticed two common threads among offensive coaches who were proficient with the system: either these run/pass combinations attack box defenders or they attack perimeter defenders. These are primarily second level players such as linebackers or drop safeties (posing as linebackers). By definition; a box defender is a defender that is in the framework of a tackle box.
Now, each coach has his own definition of a tackle box, many of which are explained in this report. But, for all intents and purposes, this case will be based solely upon RPO concepts that are used to manipulate those interior linebackers that may have a dual run/pass responsibility in zone coverage. We'll start with the most popular of these concepts, the Stick/Draw.
The Stick/Draw Concept:
The main premise of the Stick/Draw is a Draw run concept mixed with a Stick pass concept (simple enough). Typically speaking, the post-snap decision is made by the quarterback off the play side inside linebacker who will either commit to tackling the ball carrier (on the draw) or work to play the stick route in the passing concept.
The Stick Draw is by far the most common RPO used by coaches and apparently the most efficient as well. In fact, 53.9 percent of coaches said they averaged between five and seven yards per play on this concept. Since this entire case is centered on the Stick/Draw concept, we will begin with perhaps the most important element of the play, the pre-snap identification process. For research purposes, the most common Stick Draw route progression is as follows:
Base Stick/Draw Concept Receiver Progression:
Z Receiver: Blocks the MDM (most dangerous man) on the edge, just as he would in a bubble screen concept.
S Receiver: Bubble screen path.
H Receiver: Runs a stick route. If the ball is on the hash, he gets on the outside edge of the hash. It's a vertical, no stem, inside hitch.
X Receiver: Tagged route based on coverage and leverage.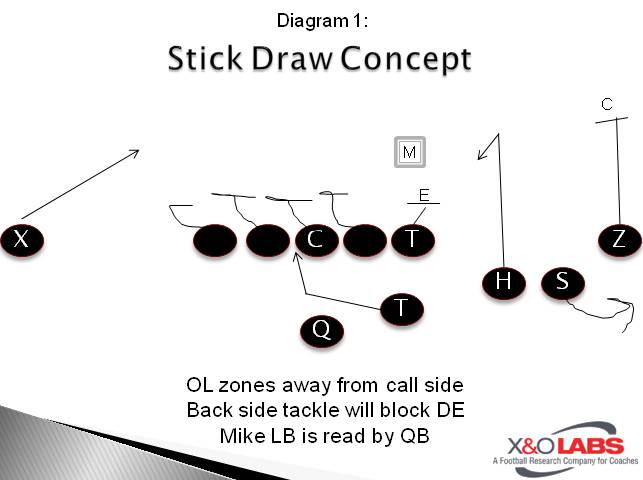 To watch a video tutorial of Villanova University's base Stick Draw Concept, click on the video below: