By Mike Kuchar
Senior Research Manager
X&O Labs
Twitter: @MikekKuchar
Introduction
Now that your RPO concepts have been installed and implemented, it's time to fine tune your RPO package to attack the certain coverages and adjustments presented throughout the course of the season. We're not referring to changing your base RPO concepts, just tailoring them to attack what defenses are doing to defend them. In this research report, we present the most efficient RPO's concepts being used for the backside X receiver, how best to get a dominant tight end involved and what answers can be provided against man coverage.
RPOs vs. Defenses That Leverage the Stick Route
Since the stick/draw RPO may be the most popular of its kind, defenses are finding ways to get the Mike backer (or hook defender) to play with inside leverage on number three. Below are some options that help alleviate that issues.
Establishing a Pass/Pass Read: Drew Owens, Offensive Coordinator, Western Connecticut State University
"For example, defenses will sometimes insert C and set B on the inside leverage on number three (Diagrams 19 and 20). We will just say, 'Bravo' and take the C read off and it becomes pass/pass read based off stick or bubble," continued Owens. "We have no blockers for the defenders in the box. The QB will still will show ball, but eyes to right to B based on that defender."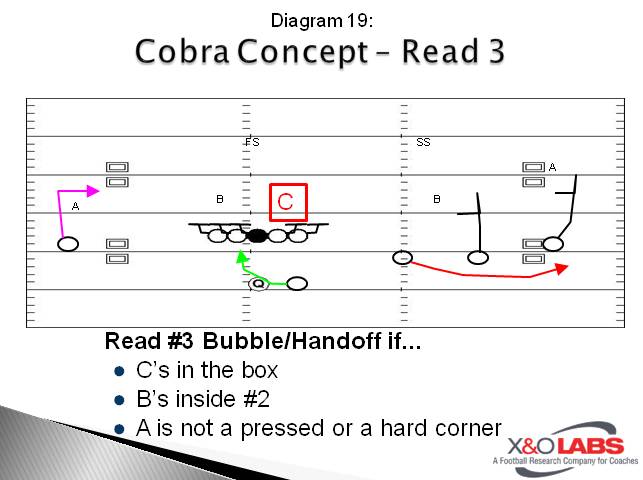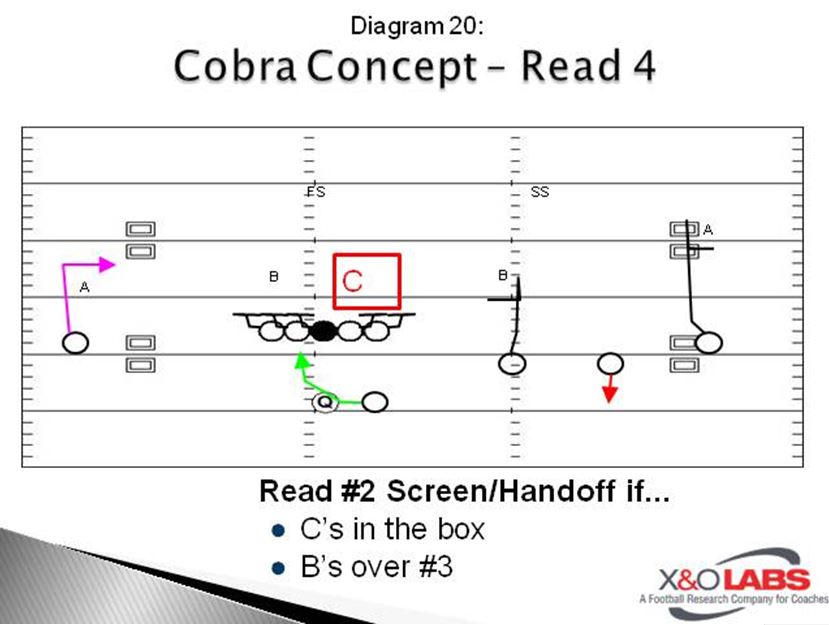 Owens will also use a "Cake" variation where the Stick read is off. It becomes a bubble by number three (Diagram 21), which is used on weeks when he's having a hard time blocking that box defender.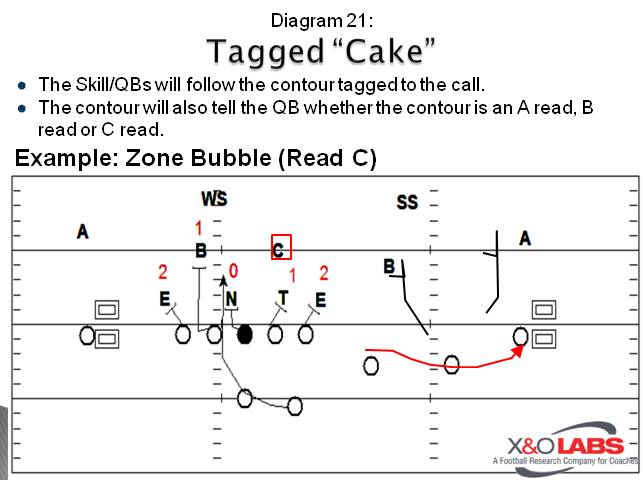 To see a video tutorial of Western Connecticut's Cobra Concept, click on the video below: