By Saj Thakkar - @saj1726
Running Backs Coach
Fitchburg State University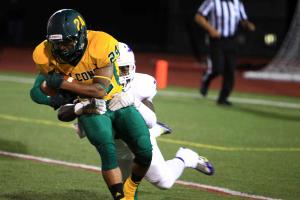 Introduction:
The Inside Zone read has become a staple offensive play across the country from the pop warner levels all the way to the NFL with quarterbacks such as Robert Griffin III, Colin Kaepernick, Russell Wilson, etc.
One problem with the zone read concept is that it exposes your quarterback to more hits and over a course of a full season and those hits add up. A problem we had to solve was keeping our smaller, true freshmen quarterback healthy while also being productive on offense. After researching offense from UCLA and Villanova, we knew our answer would be the run/pass read game. This concept is being used throughout the country and we do not want to take credit for being innovators, however, after using it we now know why this concept is becoming more and more common.
Our run pass combo game lead to us having the most productive offense our university has had in over ten years while leading to our quarterback winning the ECAC Division-III Rookie of the Year with 25 touchdown passes. We also had an all conference running back and had a receiver break the school single season touchdown record.