By Kyle McKenna
Assistant Head Coach/Offensive Coordinator
Mercer Island High School (WA)
Twitter: @CoachMcKenna
Many up-tempo offenses have moved to one-word calls to package plays and move as fast as possible. One-word calls allow an offense to combine all aspects of a play into one trigger word but can also limit the versatility of an offense. To keep the speed of the one-word call but expand the versatility, we created a system of "triplets" that contained a run, play-action and a tagged RPO. Each triplet contained up to seven play options for the offense at a very high tempo.
Evolution of the Triplets
The concepts that I will talk about here were developed over about three years with the members of the Brooklyn Tech High School coaching staff. I have a tremendous amount of gratitude for the collaboration and these concepts were a group effort. The installation was a tiered approach that involved implementing one aspect at a time over several seasons. There were basic concepts that had to be mastered first. However, some aspects can be implemented quite quickly and effectively and expanded later. Now at Mercer Island High School, we are in a similar setup where we are looking to implement the aspects as we master them.
At Brooklyn Tech, we had always been a multiple offense that was heavy in formation options but used limited concepts within those formations. We wanted to find a way to create mismatches, put our players in good situations, and highlight the skill sets of our most talented players. Our goal was to create an offense that could vary tempo, implement RPO's and use them to create favorable matchups.
We always focused a great deal on keeping verbiage and concepts simple and easy to remember. Early on, we transitioned from numbers-based calls to concept-based calls in order to make it easier to go without a huddle. Word groupings replaced numbered sequences in both the run and pass game. We wanted to create high percentage throws for our QB and began to implement Run-Pass options around 2012. We started very basic and built upon that foundation, always keeping in mind who our best athletes were and how we could best get them into space. Like option football, RPOs give you multiple places to go with the ball and they take advantage of numbers, leverage and conflict players. In 2012, we were about 20% RPO and by 2017 we were up to about 80%.
This increase started first with tagged RPOs that were schemed from week to week in the game plan. For example, we could tag a pop pass for the Y with our inside zone or power runs if we saw that the Y wasn't being accounted for. We also tagged a backside slant by the Slot with one back power. These early RPOs worked well for us and our players became comfortable with the decision-making process of reading the conflict player.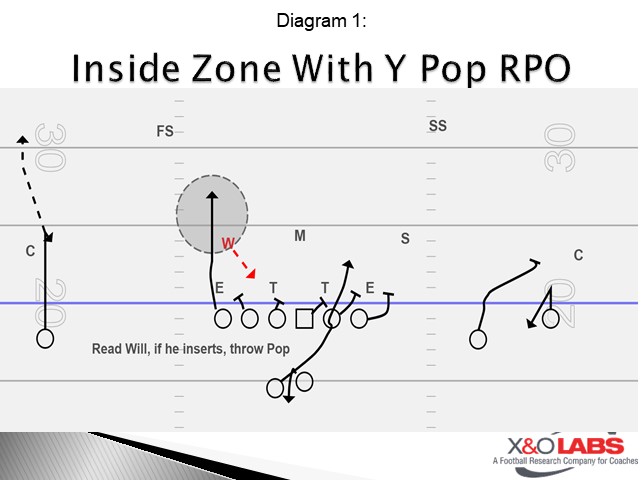 Y Pop Pass:
For our Y pop RPO the quarterback is reading either the Back side ILB (in a 2 LB box) or the back side OLB (three LB box). While performing the mesh with the running back, if the read stays put, the QB will give the ball to the running back. If the read inserts on the run, the QB will throw to the Y on the pop pass. Pop pass cannot be run too deep and should go in the area that the read vacated. We are trying to manipulate where open space will be and take advantage of it. Over the years, we have run this play from different movements and formations. It easily attaches itself to most of our base run concepts.
To study game film of this concept, click on the video below: