By Zen Bliss
Head Coach
Prestige Sports Academy (FL)
In my two seasons as an Offensive Coordinator at the Post Graduate level, our Zone Schemes have been a versatile weapon. We used a lot of 20 Personnel. We are going to discuss a simple RPO scheme out of 20 personnel (inside zone with play side and backside glance route). Our RPO structure stays the same every week, meaning we will have game planned route concepts attached to our run plays depending on the defense of our opponent. It's a simple one word play call. We may have a glance/shoot concept attached to our inside zone on the play side and the backside WR runs a 5-step glance, a hitch/wheel play side and an 8 yard in route by the single side WR attached to any of our run game. The combinations are endless.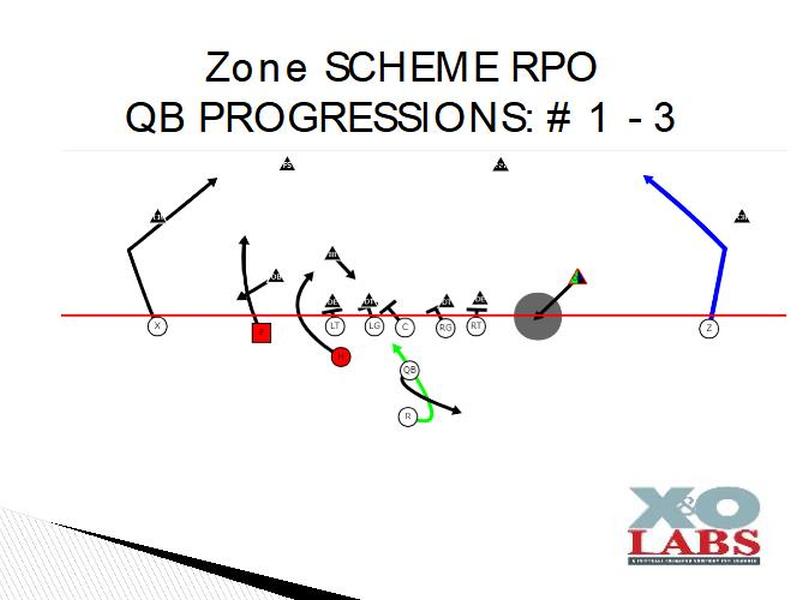 R.P.O DRILLS / PRACTICE
What we do is have our RPO practice periods in practice where the concepts are repped 1st on air in an offensive group period. We will take our two QB's and split the wide receivers and tight ends into two groups and with each QB throwing to each group, then we run scout period where we get to see the different defenses of our opponents, and finally in a live team practice. Except for 5 drop back concepts the RPOs  is our base passing game.
The majority of our run game includes an option component, we are always in search of taking advantage of specific defensive players by putting them in Run/Pass conflict. Our mesh drill has been critical in helping us achieve success in the area of ball security and gaining an understanding of which defender is in conflict for each RPO concept. The mesh drill will involve only the QB's and RB's at the base level.
Later we add TE/H's and receivers as schemes become more complex. We prefer a high number of repetitions in our practices. The drill will allow us to focus on the QB/RB mesh and each player's reads. We will work the mesh drill for 5 to 7 minutes per practice depending on the following variables:
BASE RUN READS - limiting it to our base runs only. Coaching Point- Spacing is KEY in this drill. We use cones to maintain alignment and landmarks
* Quarterbacks will rotate from Center to Quarterback to Defensive End to out. The Running Backs will rotate from Running Back to Linebacker to out. If we have a TE/H involved, he will rotate from TE/H to Safety or Outside Linebacker to out.
Quarterback
Center – snaps the ball and gives a read to the RB by emulating the movement of a DT.
Running Back
Running Back – execute the called offensive play.
Linebacker – give the RB a read forcing him to use an escape skill.
TE/H - execute the called offensive play. Outside Linebacker – plays defensive force and gives the TE/H a person to fit up on. Once the players master the drill, to maximize reps, we will run two drills at the same time facing one another. We will work every run play in this drill with the main focus on option plays.