By Chris Cutcliffe
Head Coach
Oxford High School (MS)
Twitter: @chriscutcliffe

With Noah Riley
X&O Labs Contributing Writer
Offensive red zone production is absolutely crucial in determining wins and losses, particularly in close games. We all know that as the field condenses, it becomes more and more difficult to move the football against a great defense; therefore, great preparation and practice in this area of the field is essential for setting up your team to have the best chance for success. At Oxford, we believe that in crunch time you have to be able to run the football in the red zone. We are typically 60-65% run in that area of the field. However, we spend a great deal of time preparing and practicing our red zone passing game. We are looking for high efficiency in our passing game and the ability to produce some big plays. In this article, I will break down some of our game planning thoughts in the red zone, how our offense practices for the red zone, and look at several examples from last season where this preparation and practice lead directly to touchdowns on Friday night.
Game Planning and Practicing the Red Zone Run Game
The first thing we try to do when creating our red zone plan is looking at what we think of as a defense's red zone personality. Some coaches stay conservative in the red zone, but many will dial up pressures and play a lot of man coverage. The next thing we identify is at what point does the defense switch from a red zone defense to a goal line defense. For many teams, this happens inside the 5-yard line. For others, it is more determined by offensive personnel than it is by yard line. Once we have these patterns identified, we are able to begin working on our red zone run game plan and our goal line run game plan. We work this game plan into our practice schedule on Wednesday. Our offensive players have coined the term "Red Zone Wednesday." We will work our goal line and short yardage run game plan during our inside drill on Wednesday and work our red zone run game plan during a red zone team period.
Personnel Variations
We use a lot of 10, 11 and 12 personnel groupings in our base offense and we'll do the same in the red zone. Some weeks we will have special personnel groupings like some of our heavy stuff and empty stuff. It's one of those things that builds. Early on we may just carry our base personnel stuff and maybe one special, then late in the season, we may have 3-4 special personnel groupings. An example of this is our cannon-ball package (detailed below) which we started in week 6, and carried it the rest of the year. There are also some personnel groupings that we took into a certain week, and didn't run them the rest of the year, we just liked it for that one game. No matter what formation/ personnel grouping we're in, we try to keep the teaching all the same, especially for the offensive linemen.
Tempo Variations
When we're in the red zone, we'll use a little more check with my stuff, just because there's less film to scout in the red zone compared to the open field. You're not always sure what you're going to get. Despite the fact that we are a no-huddle team, when we run our cannonball package we huddled just because it made it easier on our inexperienced wildcat quarterback. We also probably use a little more one-word calls because those prevent teams from subbing in goal-line personnel. Also, you naturally use more one-word calls because you usually are in the red zone because you made a big play, and one-word calls are used to catch teams off guard after a big play.
Protect Both Edges
We believe it is absolutely critical in the red zone to avoid negative yardage plays, so that plays a significant role in our game planning. For example, many teams love to bring edge pressure in the red zone. You often see an edge rusher catch a running back off of the short side for a loss in these situations. We love to utilize 12 personnel formations where we have both of our edges protected to run the football. This is also a great time to tag an RPO to take advantage of a 1 on 1 matchup on the outside because with both edges protected, there should not be a free hitter on the QB. The example below is inside zone with both edges protected.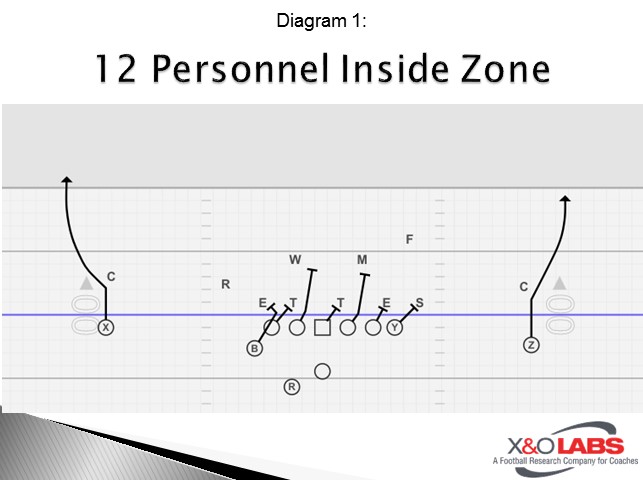 The clip below is an example of this concept: