By Justin Webb
Co-Offensive Coordinator/Offensive Line Coach
Tioga High School (LA)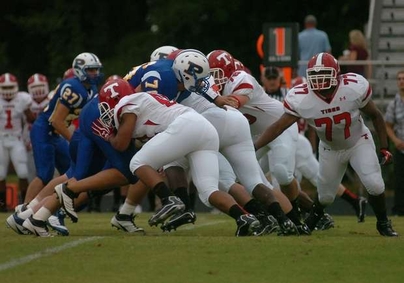 Unbalanced formations have been around the sport of football for hundreds of years. This concept has been and is being used throughout football in numerous styles of offenses. It all began with the Unbalanced Line Single Wing. Eventually, the Straight T and Wing T came along and were popular in the 60's and 70's. It was at that point, formations became balanced with two tight ends and even number of linemen on each side of the ball. From there, we saw the development of the Wishbone Option/Veer offenses from coaches all over the nation. The one concept that all of those offenses and schemes have in common was the utilization of the Unbalanced Line formation.
The Unbalanced Line is identified by the use of an extra offensive lineman on either side of the ball. This could mean using a "Tackle Over Set" by placing a Offensive Tackle at the Tight End Position or even an extra Offensive Lineman on one side of the ball to create an "unbalance in numbers". Teams all over the nation and at all levels (pro, college, high school) utilize this concept to create a numbers or strength advantage both in the running game and passing game. Some teams that I enjoy studying and watching employ this tactic are Wisconsin and Michigan State who both employed 5 Offensive Linemen on one side of the ball late in the 2012 season. Option teams such as Georgia Tech, Navy, and Army make use of this tactic pretty regularly as well. Even passing teams such as SMU and Missouri utilize an Offensive Lineman at the TE position to help with pass protection or provide some size and strength for the running game in a predominantly passing offense. There are numerous other teams that employ this strategy and most of those teams were covered in a previous article on X's and O's labs a few months back.
"What We Do"
The focus of this article is going to be a little different in its approach to this long-time formational strategy. I am going to show you how we use this strategy to our advantage at Tioga High School. We are an Unbalanced Direct Snap Single Wing offensive team and have been for 1 full season. Our overall philosophy is to outnumber you at the point of attack and create blocking angles to counteract the defense's overall size and speed. Each and every week defenses must change the overall structure of their defense to defend us. That in of itself is a major advantage for us. This philosophy is a major reason option teams are who they are. We do not devote any time to perfecting the option game. We simply line up running the same Power Off Tackle plays that every run oriented team runs, however we run them out of an Unbalanced Line.
We operate out of our base set, which we call "Right" (See Diagram 1). Our positions are (starting from Right to Left) the Tight End, Outside Tackle, Inside Tackle, Strong Guard, Center, Quick Guard, and Split End. We operate out of this line structure about 85-90% of the time. We have ways of balancing up and getting into a Double TE set, but our bread and butter is the basic Unbalanced Line alignment. We can adjust our backfield and our formations to present a number of different looks in order to outflank and outman a defense at the point of attack. But, the constant variable is that we use an Unbalanced Line.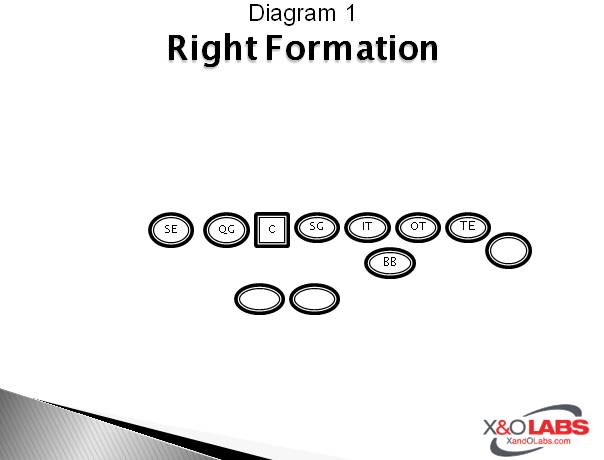 Technique
The secret to any scheme are the fundamentals up front. This is not a "magic pill" offense and/or philosophy. As a whole, we are no different than college teams such as Alabama, Wisconsin, or in many ways Auburn. The key to any offense is that you must be successful up front with the offensive line. These guys must be coached up on fundamentals, steps, and scheme. The most difficult aspect of adopting the overall philosophy of an Unbalanced Line is to make blocking rules and techniques match up to what you coach day in and day out. We are a 100% gap/down blocking scheme. Our feature play is the Power Off Tackle play. Our technique that we implement is Severe Angle Blocking (SAB). We execute 2 different types of techniques with our SAB technique (see diagrams 2 and 3 below).