By William Mitchell
Head Coach
Lewisville High School (NC)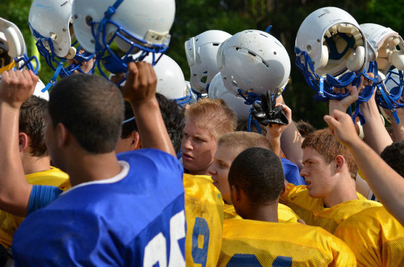 Editor's Note: William Mitchell is entering his 2nd year as the Head Football Coach at Lewisville High School in Richburg, SC. With 18 years of coaching experience, Coach Mitchell has spent time on the collegiate and high school levels in three states, SC, GA, & NC. As a Defensive Coordinator and as a Head Coach, he has been involved in turning around four programs: Chester (SC), Brunswick (GA), Ardrey Kell (NC), and most recently the Lewisville Lions. Blessed to be around good players, Coach Mitchell has been involved in coaching 15 players that have gone on to the Division I-A level, and several others that compete at the lower levels. In addition, he has been a speaker on the Glazier Football Clinic circuit and has had several articles published online. Coach Mitchell currently resides in Fort Mill, SC with his wife, Amanda, and their two children, Cooper and Riley.
When we first arrived at our present school two years ago, we knew that offensively we wanted to be an up - tempo, spread to run football team. We felt like the kids that we had fit this type of offense. Many of our athletes were what most coaches call "tweeners"…aggressive but not big, quick but not super fast. Despite our lack of size, we believed that there were also going to be times that we needed to line up and smash people, most notably in short yardage and the red zone. In keeping with our philosophy of treating Goal Line like a special team, we formed a new package for these situations: The BEAST Package.
Over the past two seasons, we have run the BEAST Package 61 times in 22 games from anywhere on the field. We usually use this in the red zone or short yardage situations, but it also has been an excellent change-up from our normal Spread against a tired defense. In that case we still play up-tempo. Our success rate on these plays speaks for its self. Of the 61 plays that we have run, 20 of those resulted in touchdowns and another 21 produced positive yardage for our team.
Personnel
Just like in our goalline defense <insert link to gorilla defense article> , all players on the team are available for use in BEAST, regardless of their other roles on the team. If we need the starting Mike LB, then we get him. The front line will consist of five linemen and two eligible "big skill" types. The three fullbacks must have one "big skill" and the other two can be linemen or skill. It is imperative that the most physical players on the team are on this unit somewhere. The most important attributes for the QB in BEAST are vision and strength. He needs to be a downhill runner. If he can throw, it only makes this package more dangerous.
Alignment & Rules for the Front Line (Diagram 1)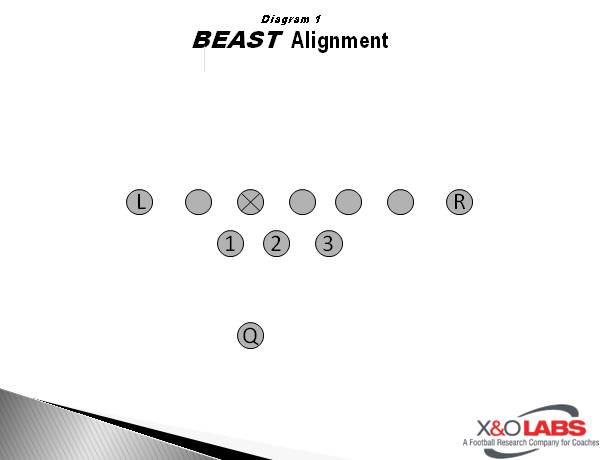 We will align our best linemen all to the same side: Center, Guard, Tackle, Tackle, Tight End to the right and Guard, Tight End to the Left. We want the front line to align with very wide splits; when they line up we want them to literally raise and extend their arms fingertip to fingertip before they get into a stance. The front line has one very simple rule for BEAST. They are to aggressively block anyone in the gap away from where the play is going. They may have to drive almost lateral but that is okay, as long as they come off the ball hard. The QB has his heels at five yards off the ball. The fullbacks are numbered 1, 2, and 3 with 1 being closest to the ball. Their alignment will change according to the play, but they will always align in a gap one yard off the heels of the OL. The three players that must be "big skill" are the Right TE, the Left TE, and the 3 fullback. Everyone except the QB is in a three-point stance.
Edito's Note: For the purpose of this discussion, all diagrams and alignments will be BEAST Right, although the formation can certainly be flipped. We usually try to put the formation to our sideline, in order to make it difficult for the opponent's sideline to see or adjust.
Plays
The nature of this package gives a variety of options for plays that can stress the defense. We have found that the following set of plays provide enough variety and options for us to attack different looks that we see in gaolline and short yardage situations. Below we have outlined each of these plays including some game film.
BEAST RIGHT ARROWHEAD (Diagram 2)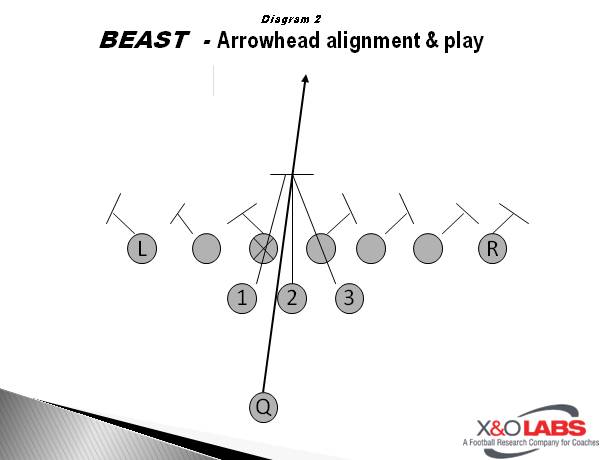 Alignments:
The fullbacks align as follows: