By Steve Monninger
Head Coach
Norfolk Academy (VA)
Introduction
As we prepared for the 2017 football season, we did not consider ourselves a team that would ever use three tight ends in one offensive set. Our overall identity is that we are a spread offense (using 1 or no TE's) that utilizes RPOs and focuses on having a high completion percentage.
After a successful preseason camp and beginning the season with a record of 2-0, we soon found out that our tight ends were better than we thought. Therefore, we decided to install a 13 personnel package that included two formations and still utilized our base plays. From Week 3 to Week 10, our 13 personnel package became a very important part of our offense. During that span of the season, we ran our 13 personnel package for about 25% of our snaps each game. Here are the top reasons why we installed it during the season:
We liked our TE's. We had confidence in the talent and depth of our TE's in terms of blocking and receiving. We understood that our X's and Z's would be on the bench more, but we still felt it was worthwhile.
We liked our RB's. We felt that this package could highlight their skills and their toughness.
Broad Blocking Surfaces. 13 Personnel formations present broad blocking surfaces. If defenses do not adjust, uncovered gaps can be created in the tackle box while at the same time, tight ends and wings can out leverage the flank.
Defenders are taken out of their "comfort zone." Since we can switch back and forth between spread sets and 13 personnel sets, our opponents would typically keep their base defense on the field. We felt that this was an advantage for us. Corners like to play in space, but we made them play off a nub TE or Wing. Safeties like to play deep, but we made them move into the box and that would set up play action passes.
Easy Install. We felt like we could use our base plays using the same principles and rules. For the run game, our OL learned nothing new. For the pass game, our patterns follow a 1, 2, 3 concept. Our TE's and Wings just had to know their placement within the formation in order to determine their route.
Easy Motions. We love to create matchups using motion. Using our standard rules, it was easy to motion our key players for certain plays. Generally, we use motions in this package to change the strength of the formation or to create a sniffer.
Usable in Several Gameday Situations. Our 13 Personnel package helped us with important gameday situations including short yardage, 4-minute offense and in the coming out zone. This package was also used to help us sustain a longer drives to give our defense a rest or just eat some clock to keep our opponents electric offense off the field. This fall, time of possession became an ally for us because of using this personnel package.
Formations
Here are some diagrams of our formations and motions from 13 personnel. The A is our best slot WR who has the most shake, but you certainly could use your best X. Our Y is the home TE that aligns to the strength of the call. The W is the Wing that aligns to the strength of the call. Our U is either the backside home TE or the extra wing in Hammer (Diagram 2).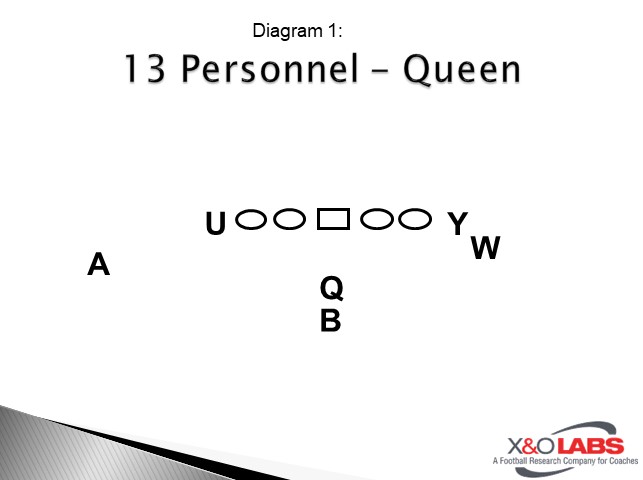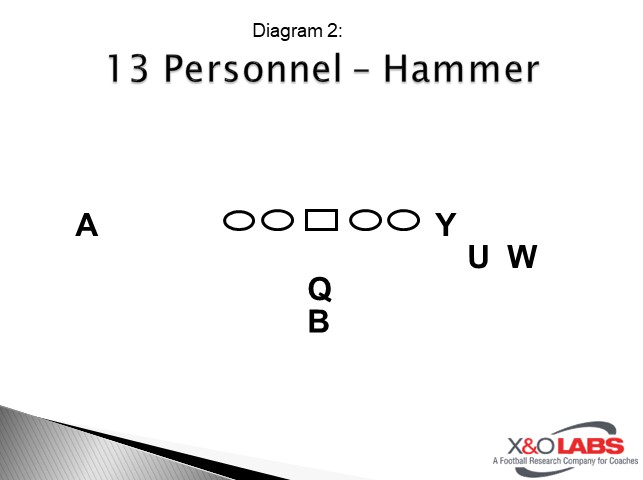 Queen Motions