By Matt Adkins
Passing Game Coordinator/Wide Receivers Coach
Southern Oregon University
Introduction: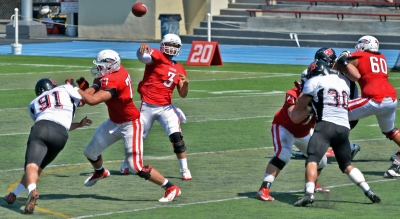 At SOU we want to take as many vertical shots in a game as possible. To do this we want to give the defense different stimulus, by not just running four verticals over and over and incorporating play action with our vertical passing. We run the double post concept at least twice a game, and usually more with different tags based on what the defense has given us in the game. In this report, I will be discussing the way that we run our double post concept out of our 20 or 11 personnel packages off of play action.
Why Play Action Double Post?
There are two reasons for why to play action the double post.
Trigger the Mike: Make the Mike eat grass vertically to help widen the Sam/Mike window.

Create easier access for the slot: If you can create any hesitation from the Sam (alley) you create free access for your slot making the safety decide faster.
Double Post Concept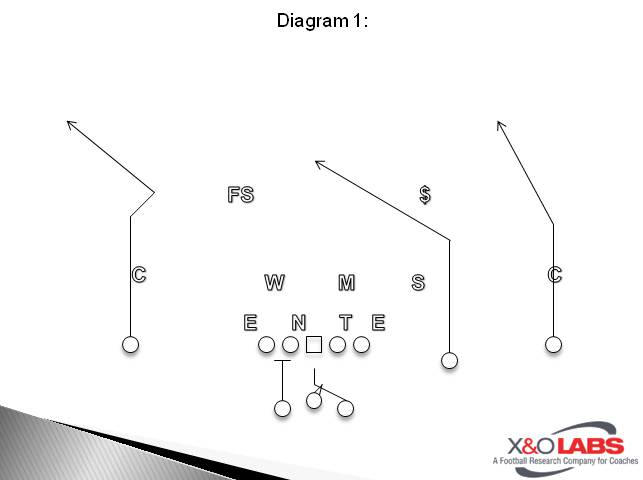 Release Rules and Depths

Single Side Receiver

Versus Off Coverage (as defined by off five yards): 7 steps vertical and three steps to the post. Break to the sidelines based on grass. We do not give our kids hard rules on whether to go over or under the corner, we expect him to be decisive and fast and see the same grass as our quarterback.
Versus Hard Coverage (as defined by under five yards): Solid take off. No release rules for inside or outside release, beat him with speed.
Logic – If the single side receiver is getting a "hard" corner, it is either man and we just want to get vertical against it to get the ball out quickly. Or it is a two-deep look, and we want to pull the safety off the hash for our double post side.
Slot Receiver
Slot – MOR (mandatory outside release) to the alley. Break to grass staying flat. We do no give hard rules in terms of landmarks. He must understand that he has two primary jobs: