By Pete DeWeese
Offensive Coordinator / QB Coach
Sprayberry High School (GA)
Twitter: @petedeweese
Introduction
The 2017 season marked a season of change for me and my team. After calling defenses for the past 6 seasons, I moved to a new school with an almost entirely new staff. Along with that change, I returned to the offensive side of the ball as the QB coach and Offensive Coordinator of the Sprayberry Yellowjackets. My hope was to take many of the schemes and formations that had given me fits as a defensive coordinator and to develop them into a sound offensive system that fit our kids.
For the team, the offense was an adjustment. In the years prior, the team utilized only a few formations and schemes. Our staff knew that we were asking them to do more, to learn more, and to execute more than what they had been asked to do the previous season. On top of that, the program had just lost an excellent senior class and we knew that we were going to have to rely on many young players with limited varsity experience. As an offensive staff, we knew that we wanted RPOs to be a big part of our arsenal. With that, we understood that we needed versatile RPOs that were easy to teach and easy for young players to grasp and execute. That is why we focused on the "Peek" RPO tag.
Why Peek?
Like most teams that utilize RPOs, we installed perimeter screens as part of our run game. With every run play that we installed, we had screens that were part of a pre-snap read for our quarterback. Depending on the formation, we had the ability to utilize bubble screens to the 2nd or 3rd receiver in a formation. We also had the ability to throw key screens to 1st or 2nd receiver in a formation.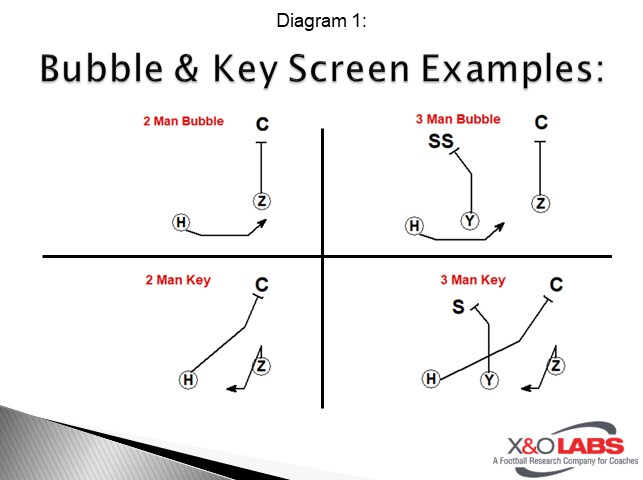 These screens are effective ways to help an offense move the ball and stay on schedule. As a DC, there were few teams that ever scared me when they were throwing the screens. I always felt that there were ways that I could leverage the screen and take it away pre-snap. When you combine that with the knowledge that bigger/stronger/more athletic DBs do more than level the playing field, I started looking at RPO tags that allowed us to throw forward passes (not lateral) in a timely and efficient manner. Our peek RPO tag proved to be just that.
What Is Peek?
We first installed peek for use in our 3x1 formations. Over time, we adapted the tag to use with almost any formation that gives us 2 or 3 receivers on one side of the formation, regardless of personnel.
During our spring football instillation period, we had some success throwing Y-Stick off of our Zone Read run game. While the play had early success, our staff agreed that it was too easy for a defense to leverage the stick route and maintain a numbers advantage in the box.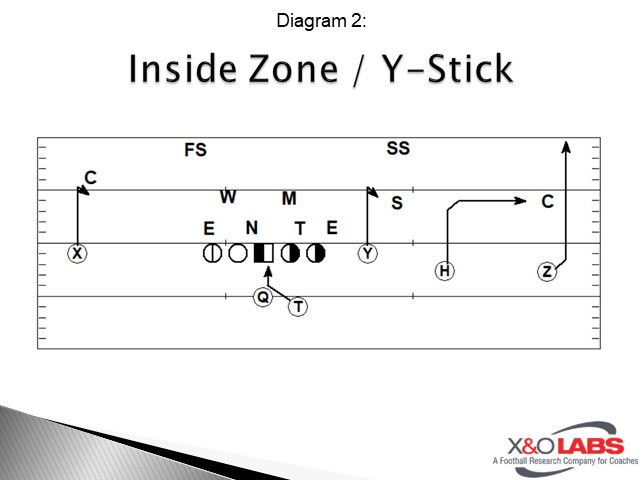 Our staff decided that we needed to find a way to take advantage of any LB or safety that is trying to cut or rob the stick route by giving our WR an opportunity to bend his route to open grass and find the void created in the defense.