By Jeff Disandro
Offensive Line Coach / Special Teams Coordinator
Greenville College
Editor's Note: Jeff DiSandro returned to Greenville College in 2014 for a second time, having previously coached at the college from 2006 to 2009. He served as the run game coordinator and eventually took over as the offensive coordinator in 2009. DiSandro will coach the offensive line and coordinate the special teams as well as assist Coach Schomaker with administrative assignments.
In DiSandro's first year as an offensive coordinator, the 2009 Panther team won the UMAC Championship and advanced to the NCCAA Victory Bowl where they played Geneva College. That year, the Panthers recorded some of the biggest wins in school history, defeating LaGrange and Washington University for the first time. The Panther offense produced All-American TE Zach Fredrich and UMAC co-conference player of the year RB Anthony Ambers.
DiSandro left Greenville for a position on Eric Hehman's staff at NCAA Division II Malone University. While there, he served as the offensive coordinator in 2010 and 2011. In his two year span at Malone, his offenses managed to move into the school record books in 18 separate categories including rush yards per game, scoring in a game, and total yards in a game. In 2010, the Malone offense finished eighth nationally in rushing yards per game and were ranked 10th nationally in the running game. He worked with the quarterbacks and offensive line while at Malone.
Introduction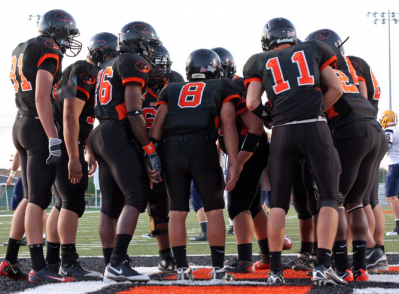 The trap play is a staple for many offenses especially here at Greenville College. We love the flexibility of the play against varied fronts as well as the great angles that it creates. Running it effectively requires an extreme attention to detail and this article will take you into the essentials that we include for our linemen to make them into great trap blockers.
Offensive Line standards
Aggressive start

Aggressive finish

Use your technique
Standards are a big deal in coaching and when coaching a position. As the coach and leader of our offensive line I have to decide what I want our standards to be. Then as a teacher I have to find the best way to clearly and easily communicate those standards to our players. The most important standard for us on the offensive line is effort. We want our offensive line to play with, as we call it, extra – ordinary effort. For us, that is more than "110%". After declaring that standard of effort we then want to quantify effort. We want to make effort gradable. Two of our core standards are aggressive start and aggressive finish. These two phrases, and their definition, quantify effort for us up front. I think most coaches know what it means to get off the ball and finish a block but I have found that most players don't think like a coach and/or share similar insights.
So, to clearly define our standards for our players we say this: aggressive start in the run game means how quickly do you close the cushion between you and the defender (from the snap). And aggressive start in the pass game means how quickly did you get from your stance into your set, or how fast did your helmet move? I am a big believer in watching wide (I also watch the tight!) as an offensive line coach. I think I can get a great feel for how they are starting and finishing by watching the wide.
Our second core standard is aggressive finish. Again, I think all OL coaches know what this means. We communicate this to our line by using the phrase "knockdowns." We teach the OL to play aggressive and nasty and we want this attitude from snap to whistle. Anytime an offensive lineman puts a defender on the ground we call that a knockdown. We tally these throughout the season and declare a winner at the end of the season. This also serves as a tiebreaker for our tough man award; which is another competition amongst the lineman group. Our tough man acknowledges practice consistency. Consistency is a major factor in highly productive offensive lines and we try and find fun ways to create that culture.
Our third core standard for the offensive line is use your technique. Even though we want them to play full speed all the time we also want them to use good technique as well. So much of good line play is using a run and pass demeanor and staying on your feet throughout much of the block (until a knockdown) and we don't want to sacrifice those things.
For the remainder of the article I want to discuss the trap play and talk heavily about the down block and its technique while also introducing some of our pulling technique for this play. The trap play has been a series that compliments the tight zone triple option for us. Before I jump right into the trap though, I'd like to start with the stance.
The Stance
I believe all of the technical portions of line play start with a great stance. We coach the stance from day one. In my opinion, so many technical issues that come up with lineman can be traced back to the stance. Some common examples in my mind are being short on aim points / landmarks and/or the lack of hips and inability to generate power with a block. Being short on aim points can be traced back to footwork issues, which can be corrected with adjustments in the stance. A lineman with enough athletic ability and strength may not be creating power because of an inefficient stance. Power is the combination of strength and speed so the stance has to allow for the lineman to have speed to the aiming point and maximum use of his hips and core.