By Brent Dearmon
Offensive Coordinator
Arkansas Tech University
Introduction:
At Arkansas Tech University, we are a run first offense that mixes in complimentary RPOs to replace quick game. We base out of 20 personnel formation, so we see 6 guys in the box every snap. Most of our RPOs are designed to control the 7th and 8th hats in the run fit.
With every RPO we run, we have to figure out the following questions:
Who is the extra run fitter to the side of the field we want to read? Which secondary player is designed to get his hat in the run fit to the field and to the boundary? Since we are a run first offense, our RPOs are based upon getting an extra hat out of the run fit each week.

Are we protected? We rarely like to let DE's run free in our protection unless the QB has a run option. If the RPO is designed to stay in the pocket, then we will read Safeties or Linebackers.

What do we do verses blitz or man coverage? Do we have built in hots to serve as answers verses blitz to get us out of bad plays?
Below we will outline 10 different ways that we use scheme our RPOs as guided by these fundamental questions.
Concept #1: Split Zone with Glance Post (20 personnel)
This is a boundary 'run fitter' read attached to split zone. We see a lot of invert coverage into the boundary so this run concept is designed to read the boundary safety. So we had to ask ourselves the three questions from above.
Who is the extra run fitter? With this concept it would be the boundary safety. If he fits the fun, we will pull and throw the glance post.

Are we protected? Yes we are protected because we are running zone to the field with our HB blocking the backside edge on the split zone.

What is our blitz answer? Because it is an inside zone scheme and we are blocking the backside edge, no pressure can hurt this run scheme so no blitz answer is needed.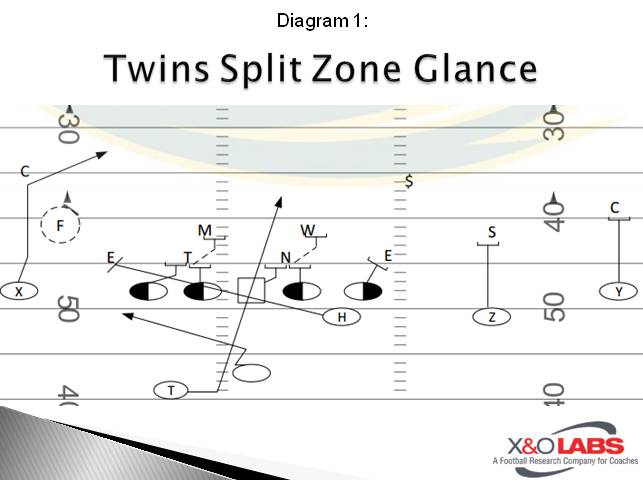 To study game film on this concept, click on the video below: