By Donnie Mays
Head Coach
South Charleston High School (WV)
Twitter: @CoachDMays
Introduction:
The Arrow RPO is a simple concept that we came up with after studying the Indianapolis Colts Levels Concept. We simply combined the Power Run Play from the shotgun with the Levels concept and applied some rules for our high school players to understand and simplify things. We initially wanted this RPO as a Tempo play, but found that it can be ran again and again with different players touching the ball with success. Our study also shows that we can run this RPO against various fronts and coverages with similar successes.
In all, we ran Arrow 20 times this past season. Here are the results:
9 Runs 96 yards [10.6 Avg] 1 TD – 1 Fumble

10 Passes (7/10) 70% 245 yards and 6 TDs.
The entire package combined averaged 17 yards per play and 7 TDs defining it as explosive for us. In other words, we should have run it much more.
Running RPOs
We first dabbled with RPO's in 2006. Like mostly everyone, our process took us on the horizontal attack (Fast Screens) with Zone Runs. In 2008 when I became the Offensive Coordinator, we decided to expand our system. We loved getting the box to 6 and running quarterback isolation while tagging a horizontal fast screen to the edge. What we came to realize is that more teams were defending the screens as part of their daily routine, and therefore getting better and forcing the quarterback to run the ball. We also noticed that the Free Safety was becoming a huge run support player to tackle our quarterback.
Our answer was simple, send our slot wide receiver on a vertical while running quarterback isolation. We called it "Dump" because we wanted to treat it like the old tight-end dump pass. Eventually, it grew into a tremendous play for us. We made some simple rules for the quarterback for reads and timing so lineman wouldn't be called down field. People started complaining to the officials saying, we were cheating and should be penalized more often, but we realized our lineman weren't getting down the field that far at all. At this point, we were ALL-IN with RPO's and haven't looked back since.
After our quarterback graduated, we knew we had to start planning to fit the new quarterback's abilities. We learned quickly that he was not a great runner but was very good at reading defenders. This is when we decided to tag our down field passing game with parts of our run game. One of the concepts we use (which is the study here) is our Arrow concept. The Arrow RPO is one of our two third level RPO's. We currently run nine RPO's from four base runs. We attack the field both horizontally and vertically in the RPO game. Our views and goals for Arrow is quite simple.
To Outnumber the Box for Run Game

Force Defense to Play 1v1 In Secondary

Eliminate the FS as part of Run Support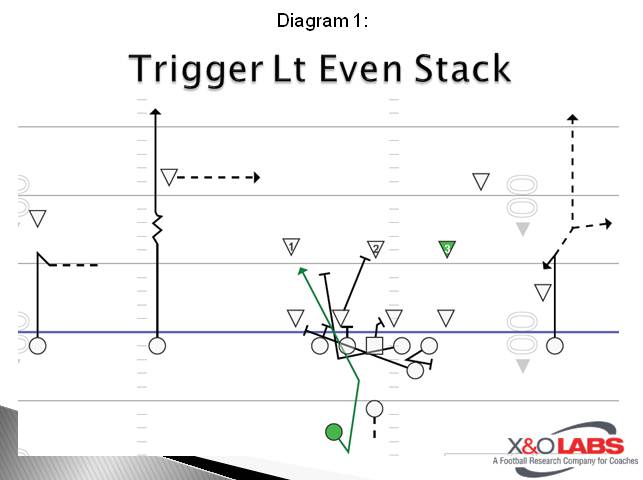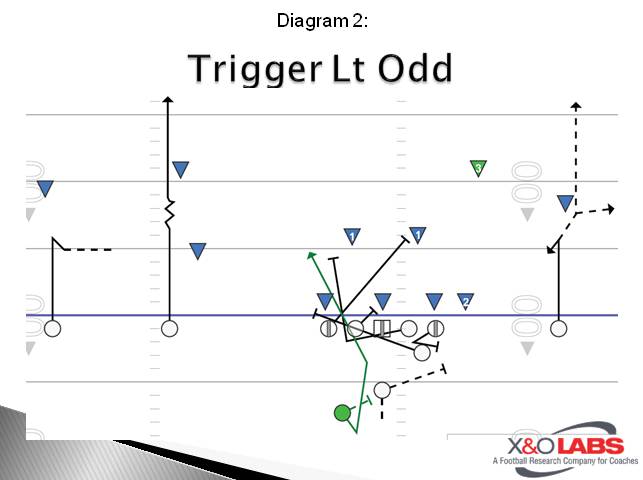 We also have a simplistic way of teaching this RPO to our Quarterback:
Teaching the Quarterback
The quarterback is taught that this is a play that can be called multiple times consecutively instead of a play that we run at a high tempo. The quarterback is then given a simple system of indicators to determine the path of the play.
Locate the Free Safety: (The QB has an invisible axis grid to find the FS and this will help determine where he goes with the ball. The Axis runs from the Offensive Center Vertically to the End Zone and approximately 10-12 yards deep for the horizontal running sideline to sideline. This is what we refer to the quadrant locator.)
Quadrant Locator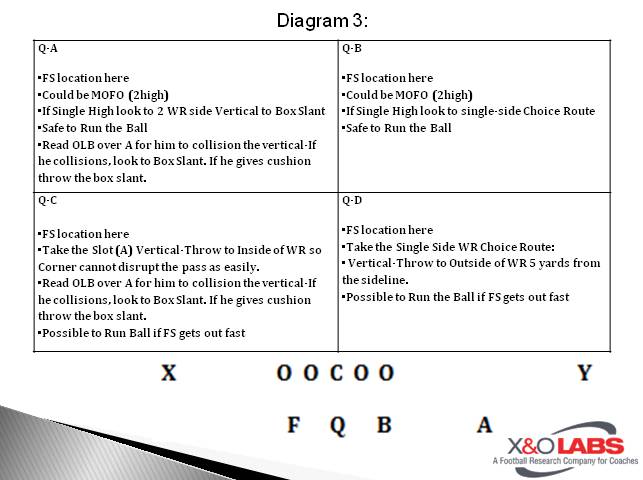 Doubt: When in doubt, RUN THE BALL! This is the safest play from any look you get. Look for coach to give a "Stay" Signal which indicates the Run Portion of the play no matter what. Or look for a "Shot" Signal which indicates to take the Deep Pass no matter what by choosing the best match up.

Box: Counting the Box helps give the QB a predetermined plan. Ours is simple: (5 Man Box=Run, 6 Man Box=Run or Pass, 7 Man Box=Pass, 8 Man Box=Pass)