By Mike Kuchar
Senior Research Manager
X&O Labs
Twitter: @MikekKuchar
Special Reporting by X&O Labs Contributing Writer Adam Hovorka
Introduction
When the RPO craze hit the football industry back in 2014, many of the concepts being developed were designed from open, one back personnel groupings. Concepts were devised from 10, 11, 20 personnel from doubles and trips formations. Made sense at the time because many RPO advocates were spread coaches by nature. These formations and personnel groupings were already part of their offensive play menu. So, they were constructing ways to protect their top runs from these structures.
But the paradigm has started to shift now into how to present these same run/pass conflicts to defenders using heavier personnel sets. Programs with able-bodied full backs and tight ends (that can both block and stretch the field vertically) are creating pass conflicts from their base runs to affect defenders. In this case, we present our research on how a small group of coaches are keeping heavier personnel groupings on the field not just to run the ball on third and short, but to create manipulations in the RPO game by affecting dual read defenders.
Editor's Note: The personnel groupings included in this report include the following:
12 Personnel: one back, two tight ends
13 Personnel: one back, three tight ends
21 Personnel: two backs, one tight end
22 Personnel: two backs, two tight ends
Benefits of Using "Big" Personnel RPOs
According to our research, only 41 percent of coaches dabbled with using RPOs from these personnel groupings last season. But the ones that did saw a vast improvement in offensive production.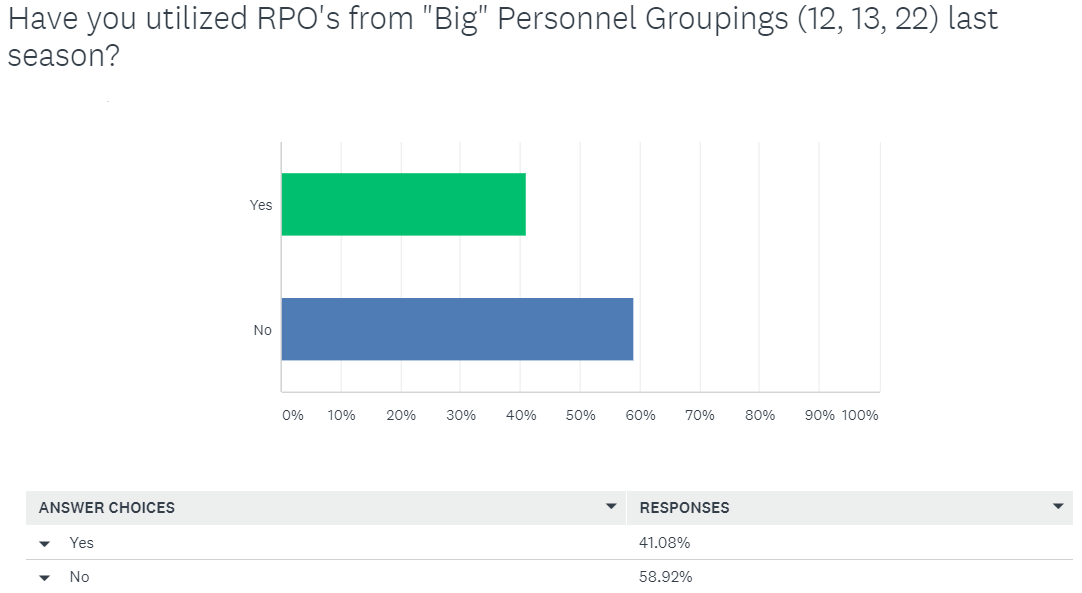 Two of our sources were quick to extol their statistics since using these groupings:
Ocean City High School (NJ): Offensive Coordinator Paul Callahan
56% completion percentage at 13.0 yards per attempt

Averaged 5.6 yards per carry in the run game.

Averaged 9.5 yards per play on RPO from 12 personnel
Whitehall High School (PA): Head Coach Brian Gilbert and OC Chris Kinane
11-17 for 214 yards 7 TDs and 1 INT (all on one concept)

7 times it was an explosive play (15 yards or more)

0 times was it no gain or a loss
While these numbers may not seem as explosive as other concepts in an offensive play menu, it's important to note that our contributors use these RPOs as change-ups. Many of these coaches do not major in these "big" personnel groupings. So, while the sample size may not be extensive, the benefits are hard to ignore.
When we asked our sources why they are using RPOs from these groupings, we found several common denominators:
It was a way to utilize a very good Tight End.

More defenders in the box led to more RPO opportunities outside.

It is extremely difficult for a defense to be gap sound and coverage sound.

It forced a safety either to make a decision in the box or in coverage. It eliminated the element of disguise.

Allows the use of a tight end as both blockers and receivers.

It's a perfect complement to red zone offense.

Teams that loaded the box early had to lighten to defend the pass option. This in turned opened the run game.

The tight end created an extra gap in run game.
Like any other offensive probability of success, it all came down to numbers. Having two tight ends (or one tight end and a FB) creates two advantages: