By Tyler Hughes
Former Head Coach
Snow Junior College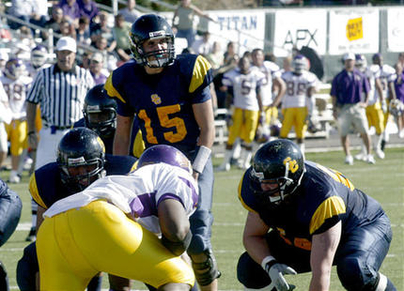 Editor's Note: Coach Hughes served as the former head coach at JUCO Powerhouse Snow College in Utah, leading his team to a 20-4 overall record, 2 bowl game championships and a top 5 national ranking in 2 seasons. Prior to being named the head coach, he served as the Offensive Coordinator leading Snow to a 70-13 overall record (.843 winning percentage) in 7 seasons as an assistant coach. Coach Hughes is currently at football intern at The Ohio State University.
Background
At Snow College, we have been a 2-Back, Pro-Style Attack since the 2006 season. During that time, our offense has finished in the NJCAA's top 10 in total offense in five of seven seasons while averaging over 40 points per game. Our run game has featured tight and wide zone concepts paired with toss and draw. As a result, we have focused great attention in developing our nakeds off our zone run action in an effort to develop a comprehensive offensive system.
Why Nakeds?
There are a number of reasons why we feel nakeds are an integral piece of our offensive attack. First, they tie directly into our run game. We ran tight zone 156 times in 2012 and need to have run-action looks that complement tight zone. Our nakeds come off of tight zone fakes so it has been imperative that we spend an appropriate level on time in developing these plays. Second, a solid naked game enhances our run game by delaying backside pursuit. We've been fortunate to have a number of explosive plays where our running backs have cutback beyond our backside tackle as the opponent's backside DE concerns himself with playing the boot action by our quarterback, thus taking him out his gap and giving us a huge running lane. Third, our nakeds have proven to be highly successful in the red zone, particularly while on the goal line. And fourth, the statistics generated from our nakeds reinforces the need to have them in our offense. Over the past seven seasons, our nakeds have produced the following:
EXPLOSIVES

: An explosive play 35% of the time a naked was called

EFFICIENCY: Have completed over 63% of pass attempts
TOUCHDOWNS: 1 in 5 TD passes over the past seven seasons have been off of our nakeds. Generally, these passes have come in two forms: a deep ball from our split route or on the goal line.
Protection Schemes
Like any successful offensive play, everything begins with your blocking success up front. Our protection scheme for our naked game is summed up by the following points:
The OL is responsible for all front-side box defenders as well as the backside DT.

Our hold-off player (responsible for backside C gap in the run game) accounts for the backside DE and the Will LB. In other words, the EMLOS (end man on line of scrimmage). We want him to wash down the backside DE and the Will LB if they both come off of the edge while taking the most outside threat. Our hold-off player should block the EMLOS on his outside shoulder, thus giving the QB his best chance to avoid pressure in his face while throwing the ball down the field.

Our H should make a great fake first followed by providing help inside-out in the event of any leakage.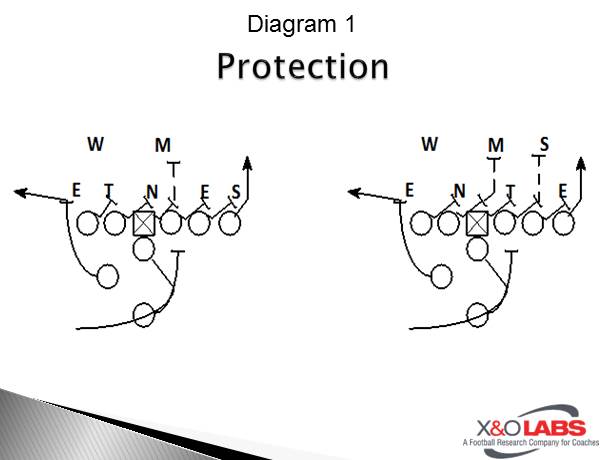 Quarterback Play
The quarterback's ball handling, footwork and mechanics are essential to having success on nakeds. Let's begin with the quarterback's basic fundamentals:
The quarterback will front out at 5 or 7 o'clock depending on the play call. He will follow that path for two steps before stepping at 6 o'clock.

Between his second and third step, the quarterback will execute the play fake. Assuming he has opened up to his right, he will extend his left arm towards the running back while placing the nose football just above belt high.

While fully extended, the quarterback will take small, choppy steps away from the line of scrimmage. We refer to that rapid footwork as 'buzz steps.'

The quarterback should 'follow' the running backs path with his faking hand while keeping his eyes on his hand, thus making an excellent fake.

At the conclusion of the fake, the quarterback will bring his faking hand back to the football giving us two hands on the ball.

The quarterback should work to a depth of 9 yards. This is important for two reasons. First, he generates plenty of clearance from the defense. Secondly, he is in great position to come 'downhill' which will give him the best chance of making a great throw. If he is too shallow, the quarterback will have difficulty getting his hips and chest pointed at his target.

A couple of other coaching points for the quarterback are as follows: The quarterback needs to be slow in his fake and fast out of it. In other words, we want him to sell the run-action as long as possible. We have found that the longer he holds the fake, the greater chance he will have to get out of the pocket cleanly. Once his fake is completed, however, he needs to 'put the gas pedal down' to get out. When the quarterback eases out of his fake he will find himself in a great deal of trouble. Finally, we do not want the quarterback to set his feet when he clears the pocket. The concern I have is that he will set his feet without having an understanding of his backside pursuit and get hit from his blindside.

After we discuss the route running associated with our nakeds we will visit the read executed by the quarterback.
Route Running