By Brandon Maguire & Trevor Wikre
Running Backs Coach & Offensive Line Coach
University of Northern Colorado
Twitter: @Maguirebrandon & @Coach_Wikre
Introduction:
Illusionists are experts at leading an audience's eyes to see and believe something that is not actually happening. That is exactly what we are trying to accomplish when we marry our 12/21P outside zone runs with our movement passes (Bootlegs). We want defenses set on stopping the run, causing them to vacate zones in coverage for explosives when they are too aggressive downhill. At UNC, we spend an incredible amount of time making sure our movements look identical to our outside zone schemes. In practice, this means scripting an outside zone immediately followed by a movement to compare pad level, sense of urgency, and body language.
When we decided that we were going to major in outside zone, we made the investment in our professional development, film study, and practice time to be great at it. We felt we must do three things:
The offensive line will attack vertically, moving the defense against their will.

The backs must be decisive and press the line of scrimmage.

Wide receivers must be proactive within the blocking scheme.
We communicate to our player's through two main points in our outside zone schemes:
Physicality/Aggression

Speed off the ball to aim points
This forces defenses to run sideline to sideline while trying to maintain gap integrity. Offensively, it helps us collect stunts and allows the offensive line to be aggressive. This aggressiveness comes from the comfort knowing the offensive linemen are in combination.
Abbreviations Used

PS = Playside

RT / LT= Right/Left Tackle

BS = Backside

RG / LG = Right/Left Guard

SL = Sideline

C = Center

OZ = Outside zone

QB = Quarterback

LOS = Line of Scrimmage

A = Running back

TE = Tight End

FB = Fullback

OC = Offensive Coordinator

WR = Wide Receiver (Also X & Z)

DE = Defensive End

NG = Nose Guard

DB = Defensive Back

LB = Linebacker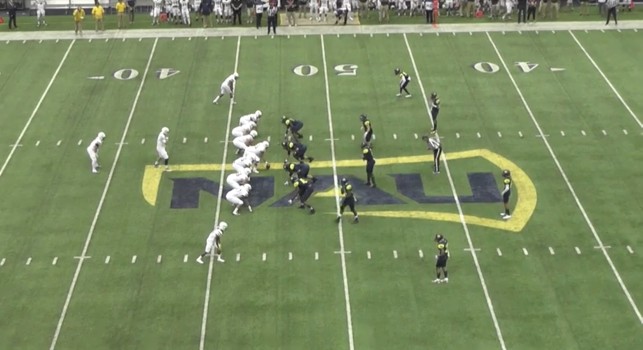 Outside Zone Concepts
Deuce Oregon (16-17): 1-Back. 12 personnel runs designed to attack the perimeter. Our balanced formation gives the offense a two way go, based on block leverage or support players. (Shown in Diagrams below)
I Duck (17-16 Wk): 2-Back. 21 personnel runs designed to attack the perimeter to the weak side. Full flow from the backs. (Shown in diagrams below Deuce cut-ups)
QB: Open playside @ 45°. After handoff drive for 5 hard steps and snap head around selling keeper fake.**Check Oscar: away from support in normal splits. To support with reduced splits and 6i**