By Curt Fitzpatrick
Head Football Coach
Morrisville State College
Twitter: @_CoachFitz
Introduction: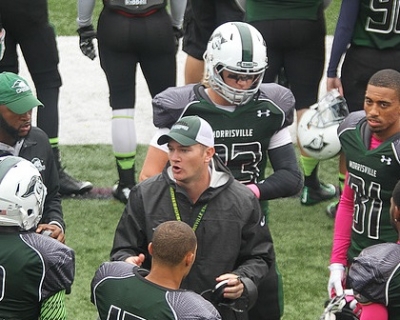 Like many up-tempo offenses, a large percentage of our run game at Morrisville State is based around running the Inside Zone play successfully. In spread formations, we either utilize a bubble screen on the back side to create a triple option look to the defense or give the QB a "now" throw if the bubble has the defense outflanked based on pre-snap alignment or pressure. This is a staple of our offense because it allows us to attack the entire field from sideline to sideline with one play call. We want to give our QB options, and try to have answers for multiple looks that a defense could give us on any given snap.
Last season, inside zone made up 42% of our total run calls and we averaged 6.3 yards per play over those 196 plays. Below was our ball distribution on the play:
Give to RB – 68% (5.4 yds/carry)

QB Keep – 14% (8.9 yds/carry)

"Pitch" Phase – 14% (8.7 yds/play)

Front Side Alley Control – 4% (4.8 yds/play)
Because we run this play as a triple option, the "pitch" phase is whatever the third option is for the QB. In many cases this is a bubble screen, but at times we will use a tight end flat route to the back side. This is a nice complement when a bubble screen is not available due to the lack of a slot receiver. This allowed us to utilize the same teaching that we spent so much time on when installing the zone bubble concept with a slot wide receiver and made it easier to install for our players as we try to use as many "this is just like that" install scenarios as possible. Furthermore, because of the way that teams line up to surfaces with a tight end, it gave us some opportunities for our quarterback to get some safe, high percentage completions.
The key to making this concept work is that we were causing defenders to be in conflict in alignments that they may have not been exposed to previously. For example, a Sam LB might be more familiar with defending a zone bubble look when he's apexed between the #2 receiver and the end man on the line of scrimmage (EMLOS) as opposed to inside the box against a tight end surface. After all, a goal of any up-tempo offense is to make defenders hesitant and question their eye discipline. This scheme fits that goal perfectly.