By Eric Davis
Head Football Coach/Offensive Coordinator
Mankato East High School (MN)
Twitter: @davismn6

Introduction: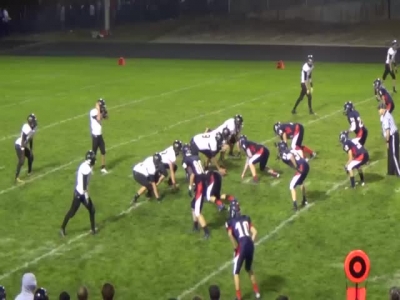 Like many programs, one of our off-season tasks as offensive coaches is to conduct a thorough efficiency analysis of every scheme we run. Our definition of efficiency is not revolutionary, but here is our definition:

4+ yards on 1st Down




Half the needed yardage on 2nd Down




Conversion on 3rd Down



Following the 2014 Season, we realized that one of the plays we installed late in the year, the Buck Sweep, was by far our most efficient play at 86% (albeit a small sample size). Since anything over 50% is good and anything under 40% poor, we were ecstatic to see the numbers on the Buck Concept.

Entering the 2015 Season, we made the Buck Sweep one of our staple plays. Thanks in part to some ideas we picked up from xandolabs.com, we added a Run Pass Option (RPO) component to the play and this is an idea we will definitely be expanding upon in 2016. The case for running RPOs off the Buck Sweep include:

It creates tremendous horizontal pressure on the defense with full flow, including pulling linemen, one way and a potential pass being thrown the opposite direction. Also, we have found that the QB is able to get into a throwing position much easier after faking to a back running a horizontal path on the Buck Sweep than on some of our more vertical run schemes.

It should NEVER result in an ineligible man downfield if it's run correctly, due to the fact that your linemen are either pinning or pulling and not (with one exception on one scheme) heading directly downfield for a LB.

It is a great concept for a program (like ours) that is better at run blocking than pass blocking. Due in part to an increase in RPOs on several of our run schemes, we reduced our sacks allowed from 32 in 2014 to 8 in 2015, including no sacks allowed on RPOs. The concept also allows us to package 2 plays together, which allows us to repeat plays with multiple attack points in our no-huddle and limits the number of plays we need to carry into a game.

One note on the following schemes and concepts: Last year we were inexperienced at QB, so we made the run/pass decision from the sideline, but we may look to put that on the QB in the future.

Basic Buck Sweep Schemes

Some of the position labeling in the following diagrams may be confusing. We don't use traditional X and Z designations. Instead, we have Field (F) and Boundary (B) receivers. We also use what we call Big Field (BF) and Big Boundary (BB) receivers in our compressed formations. These are hybrid players and could be bigger receiver types or extra TEs. It's a great place to put basketball players who might not be burners, but aren't afraid to mix it up a little. Our H receiver is a traditional slot type who is our primary fly sweep runner.