By Jacob Knight
Offensive Line
Waverly High School (OH)
Twitter: @CoachKnight55
Introduction: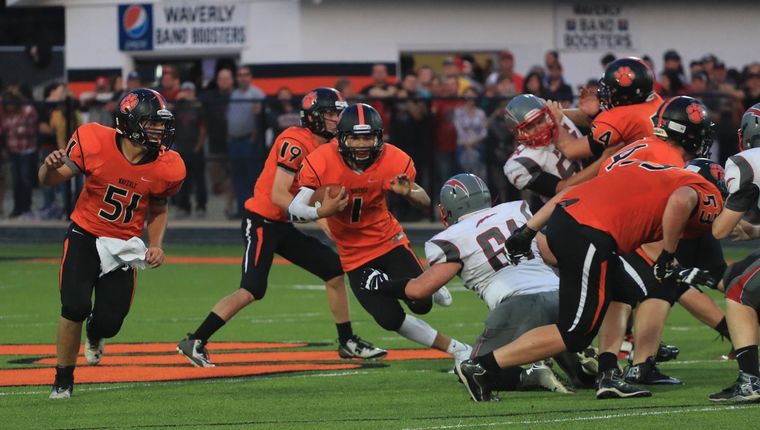 At Waverly High School, we are big believers in getting our best athletes the football in space. Our other belief is we do not want to run the football into bad looks. These are concepts most teams adhere to, but our issue going into this past season was that we had a different kind of QB.
He is a hard worker with a great deal of arm talent, but he isn't a great runner by nature. It isn't that he was slow, but it was obvious that his legs were not what we were going to live on. To address this, we sat down and tried to construct ways to give our guy answers in the run game where he didn't have to pull the football, and run. So through this, and research we decided the best way was to tag quick game to run plays.
Base Runs:
We run the following base runs; Inside Zone, Power, Counter, Stretch, and Pin& Pull. We are a team that operates exclusively out of the pistol. Because of this, we will not have tags on Stretch, and Pin & Pull (though we do allow our quarterback to take matchups to the backside 1v1 if he has them). We will tag quick game on Inside Zone, Power, and our Read counter play.
On every inside run concept our offense runs, our receivers have specific rules. If it is a 3 receiver side, our H (#3) knows that he is running a bubble, the single side knows they are running an option (hitch, slant, fade). Our receivers are going to block for the bubble, or run a route on every single inside run play we call (Diagram 1).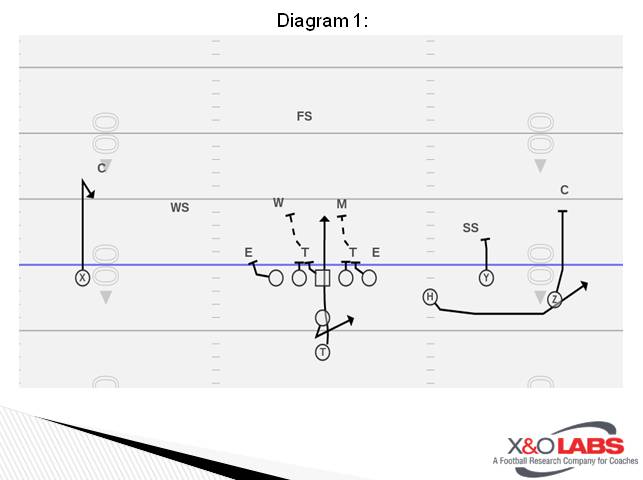 To study game film of the bubble concept, click on the video below: