By Toriano J. Morgan
Pass Game Coordinator/WR Coach
Virginia Union University (Richmond, VA)
Twitter: @Toriano81
Introduction: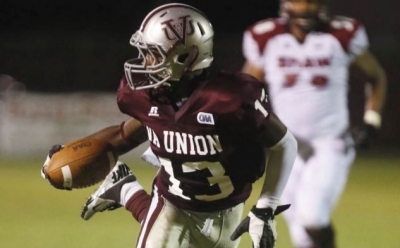 A great deal of Virginia Union's recent success and resurgence can be attributed to the emphasis they have placed on improving their passing game. That emphasis paid off this season as the Virginia Union Panthers finished 8-3 capturing an invitation to the D-2 playoffs for the first time in 24 years. The Panthers offense has also set several new school records over the past two seasons.

When installing a new offense, we looked to become more explosive and put a concentrated effort on moving the chains and being efficient in our passing game. Our Rocket concept and has allowed us to accomplish both goals and improve our overall offensive production. In just our first year, we finished the 2014 season ranked 1st nationally in yards per completion (17.6) and ranked 4th nationally in Passing Efficiency (168.4) while averaging 277ypg passing up from just 69 ypg a year prior. We also finished 1st in our conference (CIAA) in passing in both 2014(2,772) and 2015(2,618).

The Rocket concept encompassed everything we were looking for. It was simple while looking complex and it allowed us to put the ball in our athlete's hands. Most importantly, it fit right in to all of our protection schemes.

Rocket Concept:

The Rocket concept is a simple concept that we use out of our 3x1 set majority of the time. This concept entails a 15 yard stop route by the #1 receiver, a 12 yard option route by the # 2 receiver, and a 12 yard sit route by #3 receiver (as shown in diagram 1). We have experienced a lot of success with this concept as it allows us to attack the defense vertically and gives us unlimited options against blitzing defenses and quarters coverage. We have found that this concept is a very compatible to our quick game and has a direct effect on defenses when it's time to stretch the field vertically.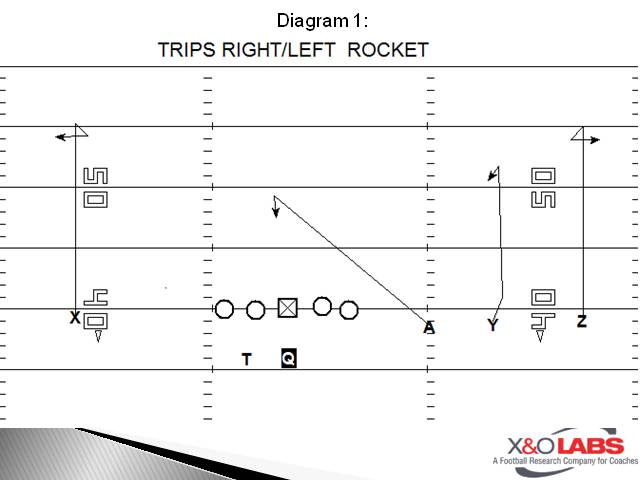 Coaching the Stop Route:

We require that the receiver use a speed release off the football. We coach our guys against a soft corner to attack the defenders technique splitting the midline of his chest while quickly closing his cushion. Once he feels he has created a two way go he should step on the defenders toes, causing him to open his hips. Once he has opened the defenders hips, he is coached to continue to push the route to 15 yards. He will make his break opening his hips 45 degrees expecting the throw to be on his up field shoulder, providing him the opportunity to run after he makes the catch.