By Brian Flinn - @Coach_Flinn
Wide Receiver Coach
Villanova University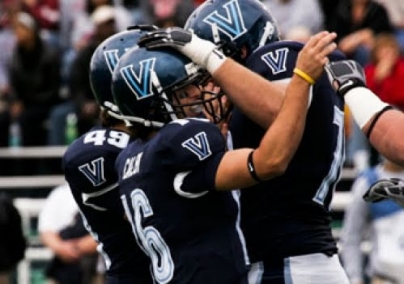 Editor's Note:Brian Flinn returns for his ninth season as Villanova's wide receivers coach in 2013. Flinn will also oversee Villanova's national recruiting efforts as the program's Recruiting Coordinator for the fourth straight season. He is currently in his second stint on the Main Line. He was previously at Villanova from 2000-01 where he coached the tight ends and assisted with the offensive line. His specific recruiting area will consist of Western Pennsylvania, Ohio and Northern New Jersey.
In 2010, Flinn helped guide junior wide receiver Norman White to a breakout year. White made 69 receptions for 886 yards and 11 touchdowns en route to first team All-CAA honors. Last year, White earned All-CAA accolades for the second time in his career when he was a third team All-CAA choice.
Introduction:
In the pantheon of the great drop back-passing concepts there is a special place reserved for "Dig-Drag-Post" (DDP). Along with classics like Stick, Snag and Smash, DDP was one of the first pass plays many of us learned, ran, drew up or broke down. It is a classic "Touchdown-Check down" read that was run so often by so many it earned the deserving nickname "NCAA". Unfortunately for DDP, over the past decade as we began to pare down our passing game to a small number of base concepts D-D-P was deemphasized and almost completely taken out of our plans.
During the past couple of seasons DDP has enjoyed a renaissance as a compliment to our intermediate passes out of empty. This "pro-style" concept has returned as a staple play out of the most spread out of our formations. The results have been outstanding, with the rebirth of the "NCAA" pattern in our passing came as a way to attack down the field and underneath. This article will break down three different examples of our Empty DDP, and discuss both the scheme and how we read it here at Villanova.
Dig, Drag, Post from Boundary
In our empty formations we have historically thrown the ball in the short and intermediate zones. Dig-Drag-Post gives us a deep rhythm throw for the quarterback and the chance at an explosive play out of empty. This allows us to take a shot down the field versus aggressive safeties who try to drive on the dig. Our quarterback will look first to the post at the top of his drop (Red #1). If the free safety (deepest defender circled in green) steps down to cover the dig and leaves the post uncapped/uncovered deep, the QB will take the deep route when he hits the top of his drop.