By Mike Martin
Offensive Coordinator/QB Coach
Madison High School (OH)
Twitter: @MikeMartin98
Introduction: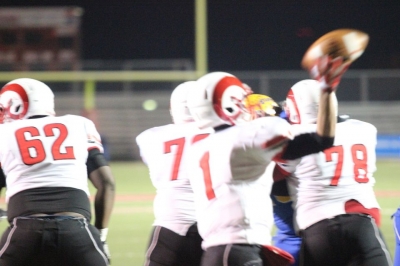 This past season we really needed to look at the factor of efficiency. We are a 65% run game team, mostly from 11 personnel out of shotgun formations. It was critically important for us to take a look at the time we were investing into pass concepts and make sure that the time put into teaching and improving was yielding proper results. So what we implemented was a time saving, simple solution to increase productivity that turned our 4 verticals into more of an every down play by pairing it with our QB draw.

In the end, the results spoke for themselves. This past year we called 25 reps of 4 verticals. Of those 25, we had 12 completions that averaged 35 yards per completion and led to 4 touchdowns. In addition, there were 5 read progression scrambles that averaged 13.5 yards with 4 of the 5 resulting in first downs. The remaining reps resulted in 3 called pass interferences, 4 incompletions, and 1 interception. So when looking at the play, we are very happy with an efficiency rate where 25 reps resulted in 19 first downs or scores. My offseason breakdown tells me that we should have run it more.

Route Progression:

In 4 verticals, we are a landmark team running vertical release routes outside the numbers on the outside and on the outside of the hash marks up the middle (we call it the barrel). 2x2 sets make that easy (Diagram 1).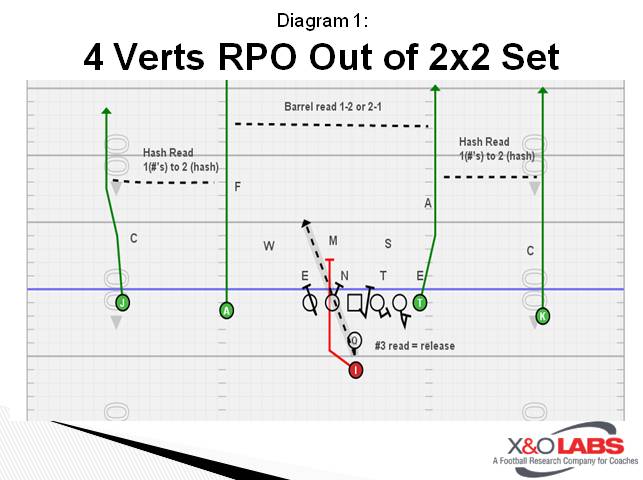 The only time we really change the basics of the route is if we are in closed trips, which is a favorite formation for us. When we are in closed trips we turn that attached receiver's route into a corner route to get to his landmark shoulder turned back that way.

In the past, I have taught various route adjustments against to two high coverages. We have used "benders" and "sit downs" at times, but we have found that these options were not comfortable for anyone. The end result was just wasting a lot of time.