By Darren Paige
Wide Receiver Coach
Midwestern State University
Twitter: @WRcoachPaige
Introduction: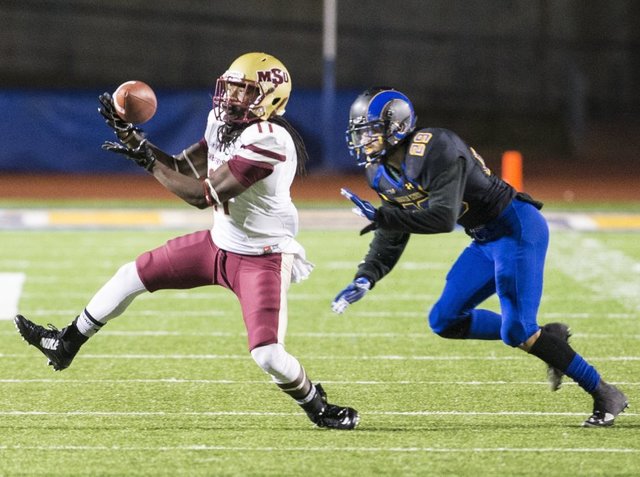 Over the years, Midwestern State University has been known for getting the most out of our personnel. When breaking in young quarterbacks and wide receivers, we have found that it helps to rely heavily on the quick game and in particular our Cajun concept. This focus has helped us improve our yards after catch (YAC) from 1.2 YAC in 2013 to 8.7 YAC in 2014. We have also seen the power of the quick game/Cajun concept to build the confidence of our young quarterbacks. In 2014, we finished the season 13th in the country in total offense averaging 6.42 yards per play. Traditionally we have been known as a run heavy team and with concepts like Cajun, we have made teams have to respect our passing game as well as our run game.
Base Concept:
The "Cajun" concept is a simple concept that we use out of our 2x2 spread set. The concept consists of an option route by the #1 receiver, a corner route by the #2 receiver has and a bubble by the #3 receiver as shown below. We have enjoyed a lot of success with this concept because it allows us to attack the overhang players on the defense forcing them to make decisions in coverage.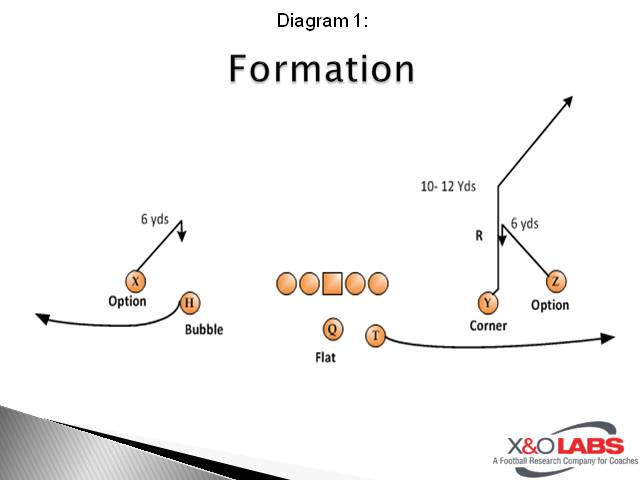 This concept for us needs a three man surface, meaning that we need three eligible receivers on the tagged call side. In diagram 2 below, you see we are in a 2x2 formation with the back to the right. In this case, we are going to call this "Cajun Right."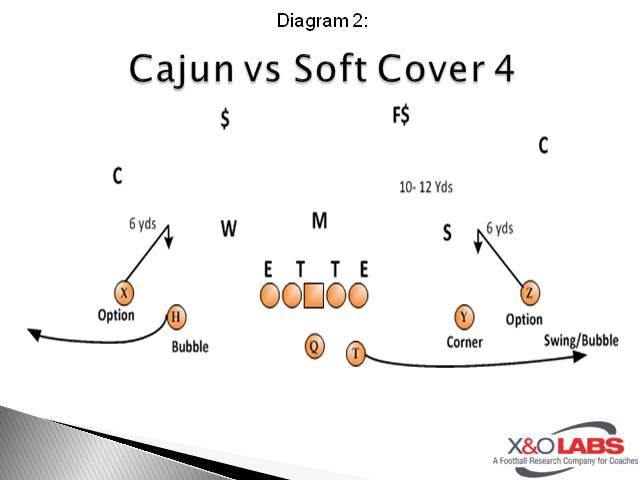 Coaching the Option Route
The outside receivers have what we call option routes. The teach the receivers that right off the snap of the ball we ask them to attack the nearest invert defender. From here, the receiver has a decision to make. If he sees the Rover "R" carry #2, then he is told to replace the "R" feet at 6 yards. If the "R" becomes the flat defender and is running right at the outside receiver, then he it taught to get vertical to his 6 yard route depth and work around that "R" to the inside and show his numbers on the quarterback. If he gets a hard corner or a cover 2 corner, he will still attack that invert defender and if the invert doesn't carry his route, he will split the difference between the corner and the "R" at his route depth. If that "R" wants to blitz the quarterback, then again he has to try to replace the "R" feet at 6 yards. In this situation, he must be ready for the ball as he becomes the hot receiver.