By Matthew Burleson
Head Football Coach
Telfair County High School (GA)
Twitter: @CoachMBurleson
Introduction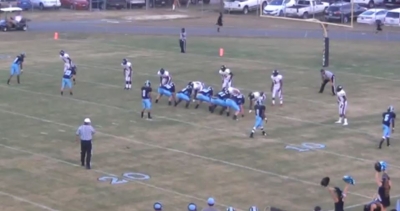 The four vertical scheme has always been one of our favorite route combinations, but we have always wanted to find ways to make it more flexible. We like the ability to attacking the deep hashes and the middle of the field, but at the same time we wanted the comfort of the short game when the defense is playing soft. Our answer was a modified hitch seam concept.
The best part about the hitch seam route combo is that it is a great play for any down, distance, or coverage. It also is very flexible in the way that it fits with various formations (2x2, 3x1, 3x2), play types (drop back, play action), and motions without disrupting the concept, timing or read.
Here is a look at how we teach this common concept and hopefully you will be able to find a few wrinkles in here that can help you with your hitch seam concept.
Outside Receiver Assignment: Run a 6 yard Hitch Route
How the hitch route is run is determined by how the corner is playing our wide receiver. If the corner gives us a loose alignment or bails on the snap, the receiver will push hard with a vertical stem to 6 yards and sit down ready to receive the ball. If we are getting a tight man coverage, we will outside release vertical to 6 yards and bring the receiver back underneath running away from the corner. If it is a hard cover 2 corner, we will have him take an inside stem leaning hard on corner's inside shoulder to 6 yards and then bring the route underneath to the hole in between the corner and the OLB.
Inside Receiver Assignment: Run a Vertical Route ready for the ball between 12-15 yards depth.
His landmark is down the hash marks. As he gets off the line, it is important to avoid collision by the OLB/SS who is attempting to disrupt the vertical route on his way to the flat in Cover 3. It is imperative that the receiver does not to fade his route out or he will allow the cover 3 Corner to make a play on the football or bend his route in toward the single high safety. Against a 2 high safety look out of 2x2, we will have a designated "bender" to attack the MOF. He should be ready to receive the pass after clearing the LBs in the middle of the field.
Slot Receiver Assignment: Vertical Bender Route 12-15yds (read for ball).
Anytime we run this combination out of a 3x1 or 3x2 set our slot receiver or the inner most receiver will run a vertical bender route. Unlike the bender by the #2 receiver, his landmark will always be the middle of the field regardless of coverage. His job is to avoid any LBs/SS and get to the MOF as quickly as possible at the free safety.