By Chuck Williamson
Assistant Head Coach / Offensive Coordinator
Central Crossing HS (OH)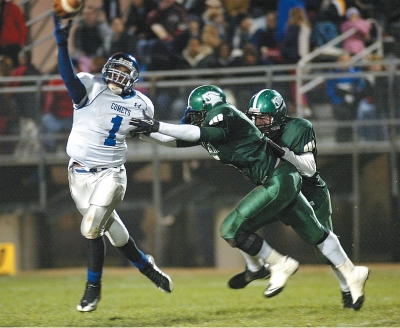 Our Sprint-Out passing game provides our offense with a safe and efficient way to move the ball with high percentage throws while at the same time allowing us to target our playmakers ( Two CCHS receivers in top 5 in catches in Central Ohio). Anytime we can attack the perimeter and put pressure on the defense, we feel we have successfully created an opportunity for a big play. These are crucial for us to meet our goals of running plays that are both high percentage (70% or better completion percentage) and highly efficient (55% of better efficiency rating).
Our Sprint-Out series is one of our most successful and explosives schemes. The quarterback will sprint to the called play side and attack the outside and put pressure on the defensive perimeter. The quarterback has the option to throw or run the football, but he will continue to attack the defense downhill on the perimeter. This is a quick & high percentage passing game that puts pressure on the defense.
Protecting the QB is obviously a priority with this package. We incorporate a slide protection.
Front side
PST reaches the DE

RB seals the edge from backfield or motion

Align a "sniffer" to block the edge
Theobjective is to make sure the defender's outside pursuit is cut off. Inside penetration can becountered by "washing" the defender into the line. But with today Odd Front and Stack defenses, you can't always say that the DE will be the man that the play side tackle will end up blocking. Add this simple term to all of you pass protection schemes "Slide to Air, Be Aware!"
Backside
BST must prevent edge rusher to clear path to QB

If there is a defender lined up head up or inside of him he must be aware of the possible edge rusher. The tackle should take a short inside step followed by stepping at a forty five angle toward the outside gap. If the rusher goes inside then give the backside guard a "helping hand" without fully committing…keeping in mind a linebacker may be coming on a blitz.