By Nathan Tanner
Head Coach
Parkersburg South High School (WV)
Twitter: @Mr_Tanner23
Our sprint out rub package has been an integral part of our offense at all 3 schools I have been the head coach over the past 8 years. This concept is very inexpensive and provides an easy way to help a quarterback that is less skilled as well as getting your best athletes the ball. This package has been great for us on 1st down, 3rd down, and red-zone situations. We also use this concept within the fastest tempo in our offense.
The goal of our sprint-out rub package is to put pressure on the edge as fast as possible while putting the defense's flat defender in conflict of assignment. Also, we use this package to keep things as simple as possible for our QB so he can get into a rhythm, have confidence, and be successful. This package also helps us get our athletes the ball in space. At Parkersburg South we face cover 0, cover 1, cover 2, cover 3, quarters, cover 6, and 2 read. This package of concepts has proven to be effective vs every coverage we have faced over the last 8 seasons.
We will drill this package of concepts when we do our group pass drill during individual with our QBs and WRs. Within the drill, a coach will stand as the defender over the #2 WR. The coach will vary what he does from getting depth to trying to jump the out route. Our QBs and WRs get several reps throughout the season because we do this drill daily throughout the summer and fall.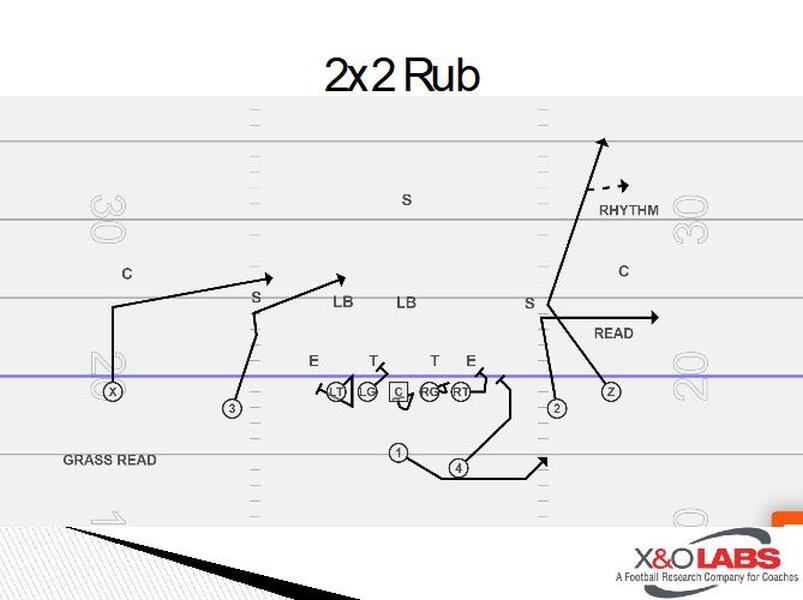 OL
Block outside zone without climbing to the second level.
If no one is in their gap they are reaching, hinge backside.
RB/H
Block outside zone.
The goal is to help set the edge to give the quarterback a clean sight of the vision.
QB
Identify pre-snap CAP (space the rhythm route is going).
Uses sprint out footwork to the play side.
Uses R4 progression. 1st read (rhythm)- rub corner, 2nd read (read)-burst out, 3rd read (rush/release)- hitch out (3wr) in trips/ QB run outside zone.
WR
#1 WR (Z or X) cheats his alignment down to where he can "rub" the defender that is over the #2 WR.
#2 WR has at least a 4-yard split from the tackle. He jogs off the line and runs a "burst" out once the rub on his defender happens.
On the backside of the concept, we have done a variety of concepts from double slant quick game to dragging the #2 WR and running a backside post with #1 WR.