By Dale Carlson
Head Football Coach
Valparaiso University
Editor's Note: Dale Carlson was named the 16th head football coach in Valparaiso University history on Jan. 14, 2010, and is just the seventh leader of the program since 1946. In 2013 he will be entering his 25th season as a collegiate head coach overall, having posted a 111-124-3 career mark. He embarks on year three with the Crusader program.
This fall will be my 25th year as a head college football coach. I have always been involved in a pass first offensive concept with its roots in the Run-and-Shoot. Our Quick Passing Game has always been one of our building blocks as our offense has developed over the years.
Our philosophy of offense is to attack defenses through the air and on the ground to open space given by defensive alignment and scheme. We want our opponents to defend the full width and depth of the football field. The Quick Passing Game is one part of our offense that allows us to accomplish this goal.
Quick Game Protection:
Our basic rules are to be aggressive with our offensive line and backs in the protection scheme. We have blocked the quick passing game in two ways: We have cut at the line of scrimmage at times and we have used a full slide protection with the back on the edge. The most critical aspect of protection in the Quick Passing Game is for all pass protectors to understand the depth of the quarterback as he sets to throw.
Our quarterback will be at five yards in depth. The offensive line and backs must give the quarterback a clean pocket and work to keep defensive rushers close to the line of scrimmage.
Hitch/Seam Concept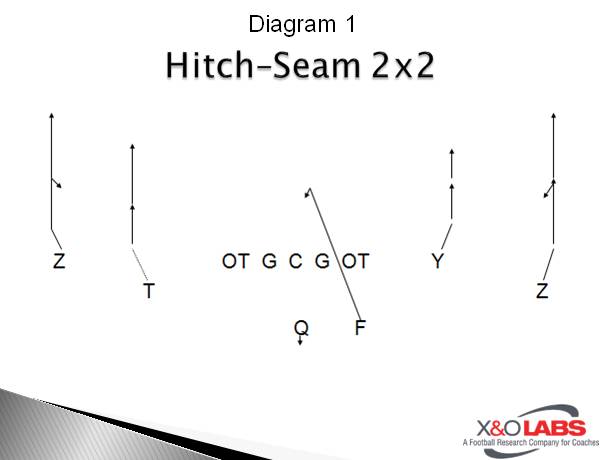 We number our receivers from outside in, 1-2-3. In a 2 x 2 set the fullback is the number 3 receiver. Our assignments are as follows as the basic play is mirrored.
Assignments
Number 1 Receiver: Hitch or Fade based on leveraged corner.

Bail corner-Hitch at 8 yards.
Squat corner-Fade. Take best release possible.

Number 2 Receiver: Seam. Must identify One High or Two High Safeties.

One High – Run through seam looking for ball at 12-15 yards.
Two High – Throttle down at 7-8 yards and protect ball from Safety over the top.

Number 3 Receiver: Hook.
Quarterback: Determine pre-snap which side you will throw. Take three-step drop from underneath center or one-step drop in Gun.

1. Read Seam defender for Hitch or Seam.
2. Stick Fade in hole vs squat Corner.
3. Check down to Hook.
Hitch/Seam Concept from 3x1 Formations
From 3 x 1 the assignments of the receivers (1-2-3) do not change. However, as Diagram 1 shows the players aligned in those positions have changed.