By Jim Hofher
Associate Head Coach
University of Nevada
Editor's Note: The following clinic report was put together by X&O Labs Senior Research Manager Mike Kuchar early this off-season. Coach Hofher, previously the offensive coordinator at the University of Delaware, has since moved on to become the Associate Head Coach the University of Nevada in Reno.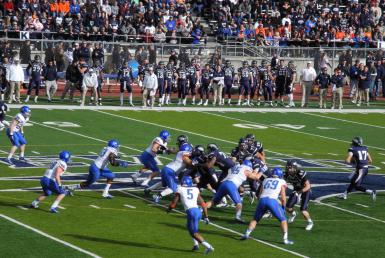 With the infusion of no-back offenses that has infiltrated the college landscape nowadays, it's become necessary to fine tune protection to make sure that your QB is protected at all times. In order to do this, it's necessary to make sure all five offensive linemen are accounting for five potential rushers. Now while this concept may be simple in nature, defenses present a variety of threats from a pressure standpoint that will force and offense to make an offensive line adjust. Jim Hofher, explains how he adjusts to those threats and more importantly how he avoids them altogether.
Benefits of Five-Man Protection:
Gets the back involved in the route- Too many of these running backs don't know how to correctly block (and most don't want to ) so why not get them out and let them do what they are supposed to do- handle the ball?
Good against pressures- The defense can dial up any pressure it wants, as long as the offensive line uses its indicators (which Hofher discusses) it can handle any pressure.
Eliminates confusion with man blocking- No simpler way to protect than to identify defenders and block them- this protection concept gives you the opportunity to do so.
Marry it with quick game routes- This gets the ball out in a hurry, leaving defenders scrambling to chase the ball. But for Hofher, this was his main protection, both in the quick and drop back game.
Philosophy of Protection
"You must be willing to leave your Center on an island," is the first thing that Hofher told us about this protection- which is the case in most five-man protection schemes, particularly against three-down fronts. Now, there are ways to get him help- which he will explain later- but it helps to have a strong protector anyway at that spot. The key in the protection lies in the play side tackle who will work with his adjacent guard to handle their assignments. It is his responsibility to involve the guard to his side, based on what he sees. "It's different, but it works," says Hofher. "The lineman come to understand one code is the name of the protection for quick game routes. It tells them they don't have to battle forever. That's when they know at their will they can use some cuts (cut blocking). We've figured out 99 percent of the problems in five-man protection and we know how to address them.
Tackle Responsibility
In Hofher's five-man protection scheme, the Tackles make a call signifying if he has an outside rusher (not including a player who is covering him up). If there isn't a potential rusher to his side he makes an "Open" call to his Guard, which means there is no threat outside so his triangle only encompasses the DE and linebacker (Diagram 1). There is no threatening alignment by his triangle. Once this is confirmed post-snap that they drop, then the Guard can help in the other direction across from the center (Diagram 2). If there is a threat of a potential rusher, the Tackle will make a "danger" call, meaning the defender isn't on the line, but he may not come at all. This is typically called when an outside linebacker is in the "hip" position of the Tackle (Diagram 3). "My guard now knows that I can't get out of here real quick," says Hofher. "I'm going to pop and set and see what happens."