Kyle Schmitt

Head Coach

Archbishop Spalding High School (MD)

Twitter: @kschmittASHS
Introduction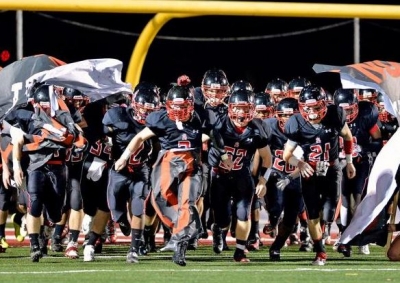 Our offensive philosophy at Archbishop Spalding High School is to be a no huddle, multiple, downhill running team. The core of the offense focuses on the zone, power and counter run game from the pistol. That focus is complimented by quarterback runs, packaged plays and the focus of this article, play action shot passes.
We define a shot play as a play-action pass that mirrors a top run, motion or formation. Our offense carries between 6 to 8 shot plays into each game. We are planning to attempt at least two shot plays per quarter, but this changes by situation.
Setting Up Shot Plays
Our core shot plays are in the game plan each week through different variations of formation and motion. We install these plays in pre-season camp with the plan to use them throughout the season. Here are a few of the game situations where we plan to use these shot plays in order to catch the defense in a vulnerable situation.



2nd Down Short/3rd Short (4 Down territory)




Following a turnover or momentum changing situation




When operating out of a Mini/Sugar Huddle




Changing up the pace with a "One Word Follow" concept



Mini/Sugar Huddle
As a no huddle team, we can create deception by huddling 2-3 yards off of the football in a sugar huddle. Each game, we have a package of sugar huddle plays used to hide backfield set and unbalanced formations. We will break the WR's first to let them set up then quickly break the offensive line and backfield players with the goal of snapping the football within 3 seconds if no motion is involved. The sugar huddle is a version of a "Tactical Tempo" to disrupt the defense from getting a feel for the flow of our offense.