By David Buchanan & Harrison Ingels
Head Football Coach & Offensive Coordinator
Quabbin Regional High School (MA)
Twitter: @QRHSfballcoach
Introduction
At Quabbin Regional High School, we are a spread offense that relies heavily on our RPO scheme to protect our run game. We are 10 personnel base and we usually see a 6-man box every snap. Our RPOs are designed to attack edge defenders. This is not that different from what many others do. What we have added is the ability to attack the defender that is being assigned to make that tackle against the pass in the event of an RPO (usually safeties or corners).
In the past few years, we have seen that when we run our spot or bubble RPO those are the defenders who usually are the second players in. Our goal is to put them in conflict when we run our RPO protection concepts. When we are looking at when to call RPO run, we treat it like play action pass, when are the safeties/corners flying up to make the tackle on bubble, spot, or slant. If they're flying up field too fast, we throw a vertical route to take advantage of the space they created.
In the 2016 season, we were able to leverage these concepts to protect our base RPOs and run game. This allowed us to be the highest scoring offense in our region's history (43.2 PPG) and our receivers and QB set multiple school and regional records. We also were able to win our first league championship and qualified for playoffs for the second time in history.
Bubble-Go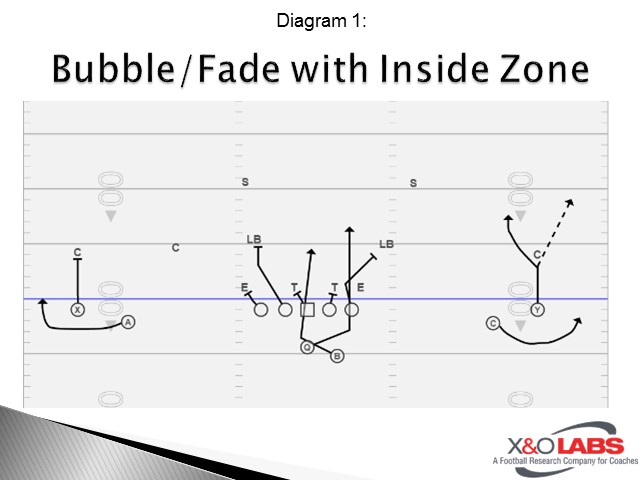 This is an RPO variation concept designed to protect an RPO bread and butter for most offenses. We will run a lot of bubble concept, especially against odd coverage teams with a weak coverage linebacker or an alignment for that linebacker that really gives us a lot of space. Our traditional bubble comes with us blocking hard on the corner with our wide receiver while the slot or a running back running the bubble behind that block. When teams adjust their corners to jam the receiver or the corner starts coming downhill when he reads bubble, we call our "bubble-go" concept. When reading this concept, your QB should be reading the corner. If the corner gets flat footed or comes down hill, it's an easy shot down the field to your outside receiver. If the corner bails, the bubble is wide open. It's a simple post snap read that can produce big plays.
For us, bubble-go is the actual play call. We would call it "inside zone right bubble-go." Everyone is running inside zone, with our RPO tag being a bubble and a go route. We show some variations on film with TEs that made us more variable and gave defenses more to prepare for when it came to our formations, most created big plays for us (20< yards).
You'll see a couple of different variations on this concept on this video. There's our traditional bubble fade out of 2x2, a variation out of double tight with arc motion and a tight end running a vertical, and a variation out of a single tight set with the tight end running the "bubble" as a speed out and the flanker going vertical. This is another play we run to counter the teams that fly to our RPO scheme and break their keys, usually for huge gainers. You wind up with four options (run, QB run, bubble, and fade) every play, although depending on the experience and skill level of the QB you may want to tell him it is an "always throw" play. We've had to coach it both ways depending on the QB.
To study game film of this concept, click on the video below: