By Justin Vorhies
Head Varsity Football Coach / TE Coach
Cloverleaf High School (OH)
We may all have grown up using the Pop Pass in youth or middle school football, it was my first touchdown pass ever as a QB.  To many coaches, it may seem like a simple concept that can only be used at lower levels.  However, with the right attention to detail to both sides of the ball it can be used as an explosive compliment to a run driven offense.
When you are a run driven offense many teams will stack the box to try and stop the run.  This is especially true when you have a QB who is a run threat.  Teams may also ask players in the secondary to have quicker run responsibilities than they normally would.  This can cause problems in your blocking scheme, it may leave in the box defenders unblocked, and cause frustration among your players and coaches.  Yet over the past few years at Cloverleaf we have come to welcome this defensive adjustment by other teams.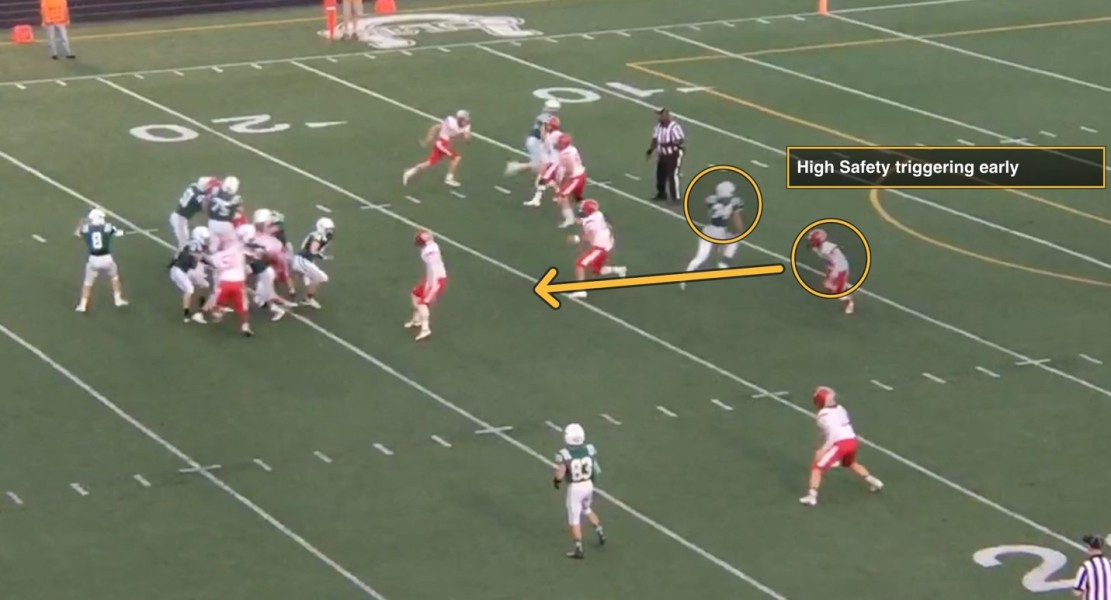 This concept/play simply started off as us calling it a pop pass (i.e. Pro Pop Right).  We found that it did not work as well or as often as we wanted it to.  The adjustment we made was to attach the route to a run play (i.e. Pro Iso Right Pop).  This helped us, but we still felt limited in what we could do.  Since then we have evolved to calling our run play and tagging a single receiver to the route (i.e Pro Iso Rt Y-Pop, Pro Iso Rt. Z-go, Pro Iso Rt. X-Slant, etc.)  This has allowed us to take advantage of any defender in conflict or a space on the field that is not being covered.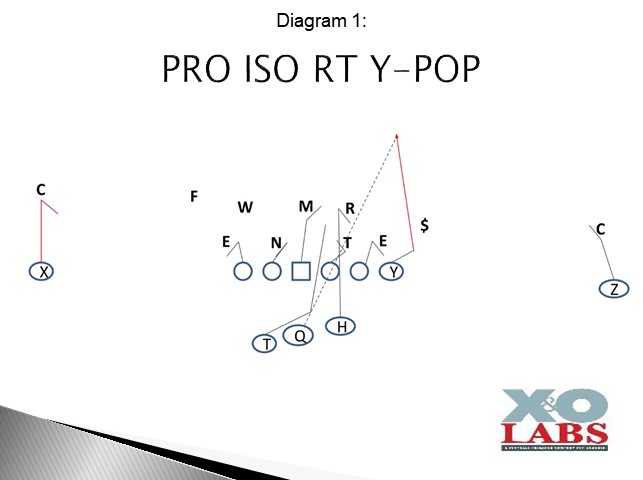 Above is an example of how we would block and run our basic Iso Pop play.  Note that everyone except the QB and TE are running their normal Iso play responsibilities.
What to look for:
We are a run concept, gap scheme oriented offense. We will use many formations to take advantage of or best run concepts. The first part of our game planning consists of our staff finding favorable formations to run our best 4-5 run concepts (Iso, Trap, Counter Trey, Sweep/Jet, Power/Power Read).  Once we establish this we now look for big play opportunities off our run game.