By Mike Hallett - @coachhallett
Head Football Coach
Heidelberg University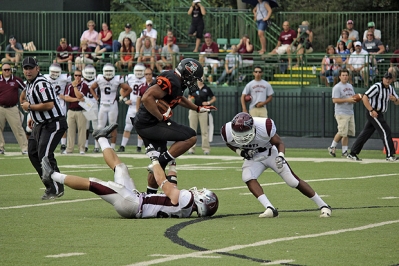 Editor's Note: Coach Hallett currently is entering his 8th season as the head coach at Heidelberg University. All told, he has over 20 years of coaching experience, including three (2004-06) as head coach at Thomas More College in Crestview Hills, Ky. Prior to taking the reins at Thomas More, Hallett served as the offensive coordinator and offensive line coach for the Saints. His coaching career began as an assistant at his alma mater, Orrville High School. The 2012 season was one of the most memorable campaigns in the 100+ year history of Heidelberg football. Hallett's squad finished the regular season with a 9-1 record and earned their first trip to the NCAA Division III Playoffs. Though the Student Princes dropped their first round game, the nation recognized his remarkable accomplishment -- Hallett had taken a team riding a 36-game losing streak to the playoffs in six seasons. Hallett is a 1994 graduate of Mount Union and was a member of the Purple Raiders' 1993 National Championship team. He was a two time All-American, and was named National Defensive Lineman of the Year. He is enshrined in the Mount Union Athletics Hall of Fame.
Introduction
It is an honor to present our Boot Series to X and O Labs. At Heidelberg, we are committed to having a strong run game and we want to use our play-action passing game to complement our run game and keep the defense off balance. This article will focus on our Boot action which complements our sweep play (pin and pull) run play, which has been very successful for us over the past three seasons.
Editor's Note: Heidelberg's Pin and Pull concept was detailed earlier in a clinic report.

With the advent of our sweep as our primary perimeter run game, we want to have action that works opposite the sweep action and our boot has been a very good match for us. Our sweep was called 80 times in 2013, gaining 668 yards, and 8.4 yards per carry. Our boot was called 70 times, with 2 QB runs. 68 passes resulted in 736 yards, averaging 10.8 yards per call.
Protection
We will have some base rules for our offensive line with regards to protection. We also have some base adjustments to our rules to help handle problematic fronts, which we have encountered historically. With our offensive line, we use the term "Elephants on Parade" (EOP) for the group. The OL will turn and run to the sideline of the run action, blocking defenders they encounter on the way to the sideline of the run fake. We feel the strong run look will affect the linebackers and force defenders, drawing away from our front side of the route distribution. Our base rule will include a pull from our BS guard (FS to the Run Action), who will work to secure the edge for the QB (Diagram 1). Our puller is instructed to kick out or cut a hard charging EMOL, and to log any read technique defender. We want our puller to take the widest defender, if two show up on the edge. We feel securing the widest allows our QB to get to the edge to have a run/pass option in the perimeter. The innermost guy must run the hump. The end should get sucked in with run action.