By Gerald Hazzard - @CoachHazzlec
Offensive Coordinator
Lake Erie University
Editor's Note: Assistant Head Coach Gerald Hazzard joined the Storm coaching staff as the offensive coordinator in January 2007. Hazzard was the first assistant hired by Mark McNellie. LEU finished 2013 as the second ranked offense in Division 2 averaging 551 yards per game. Hazzard coaches the quarterbacks and has produced 18 all GLIAC performers in 4 years. A 1999 graduate of North Olmsted High School, he was a three-year varsity fullback and linebacker. The Cleveland native and his wife, Emily, married in June 2007. The couple resides in Painesville with their children Gerald IV and Lucy.
Philosophy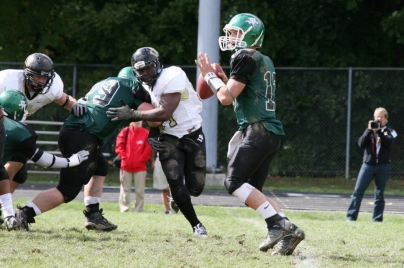 Every Sunday when we start to breakdown our next opponent our top priority is to make sure that we are able to run our zone schemes against all of the fronts they show on film. We will divide the film we are watching up by formation and make sure we look at each clip that our opponent has played during the season. Once we have established that we can run our zone schemes against the looks that are on the film we will next determine what formations are the most advantageous to use. This step may lead us to use the same formations we have been using all year or it may lead us insert new formations for the week. This is a great way to broaden your attack and keep the defense on their heels. Our next step in game planning is to make sure that we have at least one play action pass off of each of our zone looks. It is our general philosophy to keep our run/pass ratio as close to 50/50 as we can. Having a diverse play action package goes a long way to helping us accomplish that goal.
Main Objectives in Game Planning PAP's
When we designed our zone play action package we had three main objectives in mind. The first objective is to take advantage of the reaction of the second level defenders and complete quick passes to skill guys in space. We will run zone 35-40 times a game if we can. Second level defenders have to respect our commitment to running zone and are often caught out of position against a quick throw. Our tight end and our slot receivers are our main targets in our quick hitting play action plays because defenders get caught up in run flow so often they lose their responsibilities in the pass game.