By Mike Kuchar with Rob Spence
Offensive Coordinator
Georgetown University (DC)
Twitter: @CoachRSpence
Georgetown University offensive coordinator Rob Spence realized that his run game was stalling, and he had to find more creative ways to move the football. He was still working with an inexperienced quarterback, so some of the layered pass concepts in his West Coast system still needed some time to matriculate. So, the 30+ year coaching veteran, went back into his files and pulled a concept that he relied on heavily when he was the offensive coordinator several miles away at Rutgers University (NJ). It was these OTB (over the ball routes) where several receivers were tagged- based on concept- to work short routes over the middle of the field directly in the quarterback's line of sight. These were quick, easy distributions designed to get the ball to a skilled tight end with excellent ball skills.
"At Rutgers we would do it anywhere on the field, even coming off the goal line," said Coach Spence. "We feel that comfortable about that it's on the call sheet every week. It's about getting the ball to a good player quick right now." These routes are progression reads for the quarterback and are implemented in Georgetown's Curl and Spacing concept. They are progression reads for the quarterback who works from 1-4 in his read. Coach Spence said he chunk plays it then controls the ball by getting it out of our hands really quickly. They were extremely effective in 2021 as Georgetown ranked second in the Patriot League in passing offense (253.7 ypg) and third-down conversions (41.2%) while finishing third in yards per completion (12.1) and total offense (333.7 ypg).
O.T.B. Route Technique:
These OTB routes are set at a depth of five yards. While Coach Spence used to run the route over the Tackle or over the Guard but the receiver's main job is to control the Mike linebacker and being over the ball forces the Mike to account for him. Coach Spence calls the route tech "playing low post basketball" by just working over the ball and boxing the Mike out of position.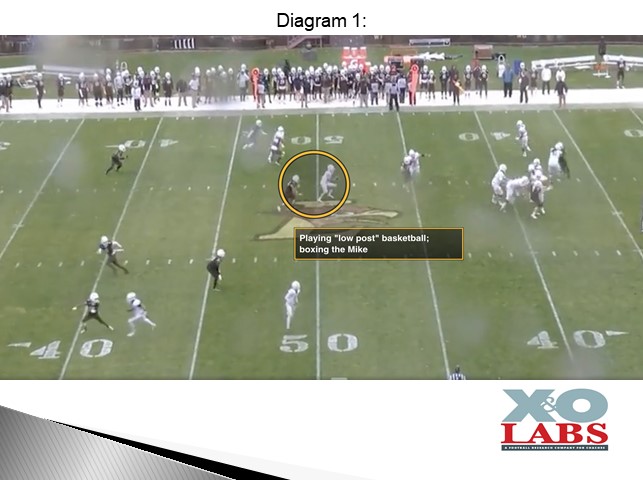 It's the quarterback's job to throw the ball to the open shoulder (or non-defended shoulder) of the receiver, something that he says in an art form in and of itself. The quarterback is taught to read the squeeze of the Mike linebacker. If he squeezes right, I throw to the opposite shoulder. But the quarterback must throw the ball below the chin of the receiver because of the expected contact.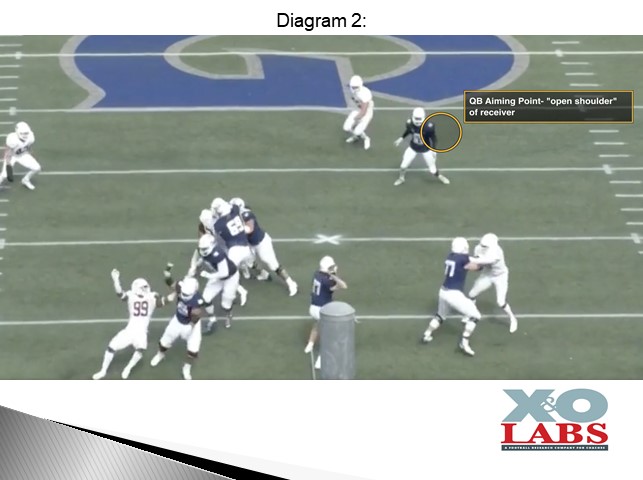 But once the ball is delivered it becomes the receivers job to turn and immediately knife (penetrate) the defense. Coach Spence calls this a "puncture technique" technique by learning how to cover the football, drop his ball side shoulder and puncture the defense.