By Tye Hiatt
Offensive Coordinator/Quarterbacks Coach
Shepherd University (WV)
Twitter: @HiattShepherdU
The cross scheme (Y-Cross) is a base concept for our offensive staff at Shepherd. It is a scheme that has answers to different coverages and is a concept that we can adjust to our personnel. This concept is one that we can add to as the season progresses and make adjustments as needed. One of the factors we stress with our players when installing this offensive scheme is that we want our players to understand the "big picture" of the play. We want players to understand how they fit within the base concept. This play gives us the freedom to move players around the field and put players in multiple positions to be successful.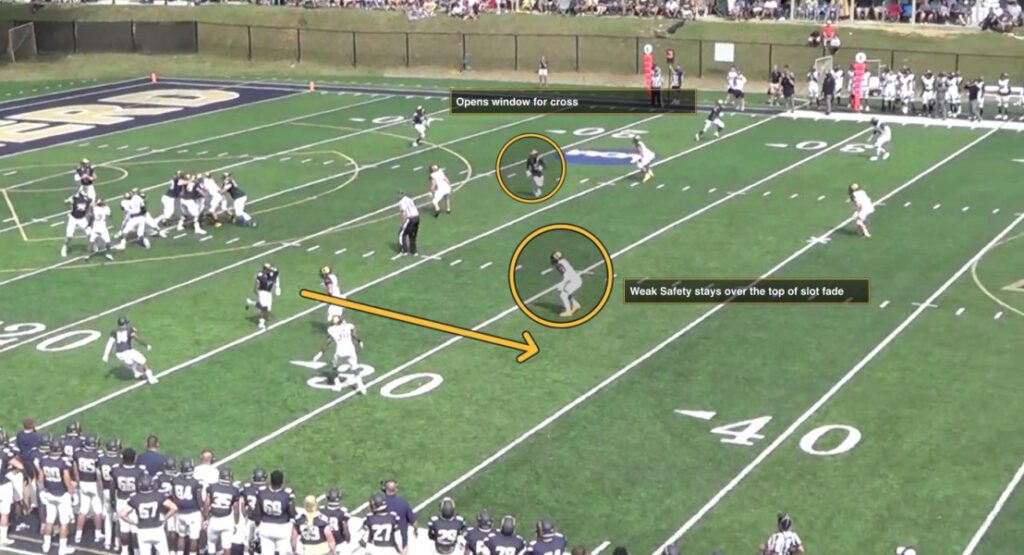 In this first diagram, we will go over our base install for the concept.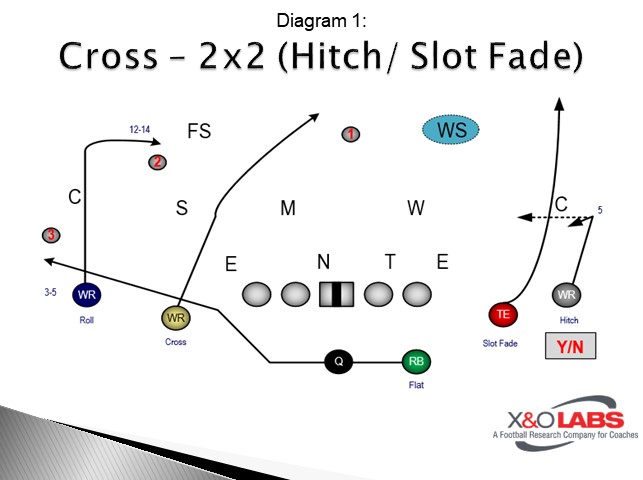 Here are our base install rules:
Boundary WR #1: 5-Step Hitch – Work down the line vs Man
Boundary WR #2: Slot Fade – Release to the bottom of the #'s, hold the line at 13-15 Yds (Stem and hold vs man coverage)
Field WR #1: Roll – 12 to 14 Yds on depth – Stay flat to negative
Field WR #2: Cross – Work inside apex defender and attack vertical, do not run past the center, allow the QB to throw to grass (Man coverage - work inside, vertical stem and flatten)
RB: Flash fake, funnel edge defender to Tackle and release to flat (Anticipate the ball coming out quick vs pressure)
QB: Flash Fake – 5-Step Series
Using the eyes of the quarterback to work through this play, here are the key reads we look at within the concept:
Pre-Snap Key
Identify the WS (Or the player who is defending this area). The quarterback wants to get a pre-snap view of where this defender is aligned and his demeanor.
The quarterback wants to look at Y/N Hitch – With the pre-snap picture he will ask himself "can I complete the hitch?" If this is a yes, come off the flash fake and throw the 5-Step hitch. If No or if the picture is not clear, work to the key read.
Post-Snap Key
Work the post-snap key read on the WS (Or the player who is defending this area).
If the WS works inside the hash toward the middle of the field, the quarterback will work the high/low into the boundary.
If the WS works outside the hash toward the boundary or drops vertically on the hash the quarterback will progress cross, roll, back.