By Nick Gehrts
Head Coach
Westview High School (AZ)
Twitter: @Coach_Gehrts
At Westview High School, the Delaware Wing T has been a staple for over a decade. Since 2011, we have won 8 consecutive region championships and are 46-0 in region play. We have also made the state playoffs the last 13 years. Although our success can be attributed to a multiple of factors, running the wing t has no doubt been a big part of that.
After taking over the program in 2016, I wanted to continue to run the wing t, but I also wanted to evolve the offense to be able to give us more options when teams stopped our run game or stacked 8-9 guys in the box. In 2017, we began running more shotgun formations, and this past season in 2018, we were in shotgun running our wing t concepts 98% of the time. By making the transition to shotgun this gave us the ability to run our QB much more and essentially put a 4th RB on the field. Being in shotgun still allowed us to run our base plays (Buck Sweep, Jet Sweep, Trap and Belly), but we could also do a lot more off of them.
Implementing a few wing t concepts to any offense can certainly help your offensive output and give defenses an added dimension to game plan for especially when preparing for a running QB. In this report, I am going to break down a couple of the plays that we had a lot of success with this past season with our QB
Buck Sweep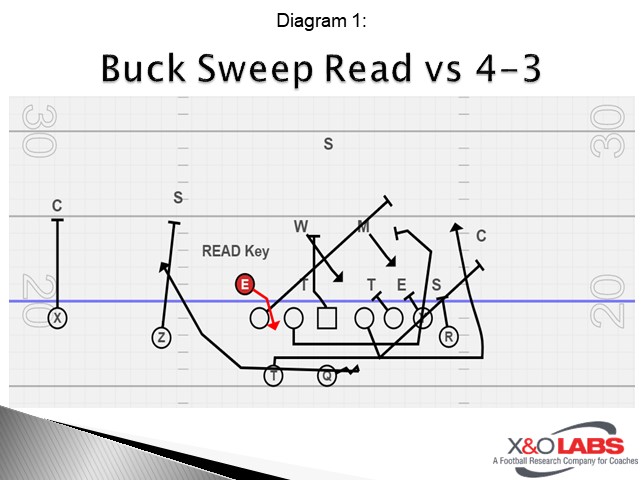 Rules
TE - Gap/Down Backer
PST - Gap/Down Backer
PSG - Pull Kick #4
C - Gap/Down Backer
BSG - Pull Seal
BST- Base/Cutoff
Wing - Gap/Down Backer
Buck Sweep is the bread and butter of our offense. The key to a successful buck sweep is to prevent the linebackers from scrapping and coming under the blockers that could potentially prevent us from having a big gain. Since deciding to go exclusively shotgun wing-t we feel that the biggest advantage is being able to make those LBs play more honestly by having adjustments when they do start getting underneath our blockers.
Once the middle linebackers begin to fly down and scrape underneath our blockers we will tag our buck sweep call to tell our QB to read a defender. In the example above, we would tell our QB to read the BS end. If the end is squeezing down the QB will pull it and if he is getting upfield the QB will give it. If the BS end continues to get upfield and give our QB a give read we will tell the BST to arch block him and tell the QB to keep it no matter what. The great thing about the call is that only 2 people are changing what they are doing, the QB and the TB.
To study game film of this concept, click on the video below: