By Eric Davis
Head Football Coach/Offensive Coordinator
Mankato East High School (MN)
Twitter: @davismn6
Why the Pistol Triple Option?
The Triple Option is one of the most prolific rushing attacks ever invented. When combined with elements of the modern passing game, we believe it provides us with the best way to attack high school defenses. Our offense attempts to blend some proven offensive philosophies into a cohesive system that fits our program. Simply put, we are going to align in Flexbone formations and force our opponents to defend the Triple Option along with an Air Raid-style vertical game. Our experience has been that the threat of the Option keeps pass coverages relatively simple and the threat of a competent Passing Game makes exotic option-specific defenses difficult to execute. We use the Option and the Quick Game to move the ball while we look to take our shots and score points with the Play-Action Pass (PAP).
We ran the Flexbone from 1999–2007 and it is a great offense. Nothing written here is intended to disparage a system which is enjoying yet another resurgence with the recent success of the military academies. Our use of Flexbone formations is intended to create 8 Gaps for the defense and our use of Air Raid concepts and coaching techniques is intended to present 4 credible vertical threats. Our blocking scheme for the Triple can best be described as Duo Blocking with a C-Gap Read.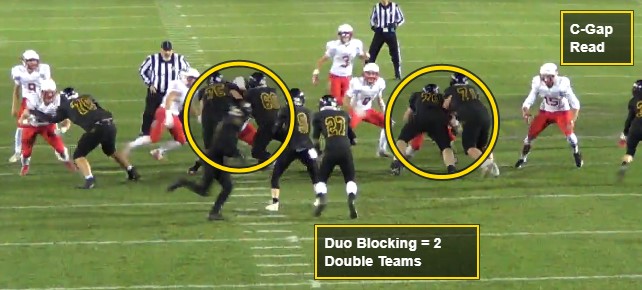 We run our offense from the Pistol for the following reasons:
Enhanced Passing Game: today's high school players are far more proficient at throwing and catching the ball than they were when the Triple Option was invented 50+ years ago. We've averaged 18-19 passes per game in our two seasons of running this offense. Our QB depth is 4 yards, which simplifies all of our pass drops and helps our pass protection.
Easier Mesh: our experience is that our Pistol Mesh is much easier to master and maintain than the Inside Veer Mesh from under center. This frees up practice time for us to diversify our offense. It also allows our QB to get downhill off the Mesh even if we're getting no better than a stalemate upfront. We don't have specific Mesh Drill periods each week as we did in the Flexbone. Rather, we film our Inside Run periods with the offense coming off the sideline and the ball being snapped on a stripe, meaning the Center, QB, and TB are all straddling a straight white line pre-snap with the camera behind the TB. We originally did this to give the TB a landmark to follow on Midline, but we have found it useful for other phases of our offense, including the Triple. The QB is also getting more realistic reps with the offensive and defensive fronts out there as he reads defenders.
Adaptable Dive: rather than trying to pry open a crease in the defense, we are trying to push the Front vertically with double teams and gap blocking. Our Dive can hit anywhere from the frontside B-Gap to the backside B-Gap, meaning that the Triple can act as its own counter-play. This also allows us to run the play to 3 technique side of the defensive front, which is a common deployment against the Triple Option. Finally, the depth of our TB opens up a large menu of complimentary runs. Last season we ran Duo, Isolation, Trap, and Tackle Wrap as changeups to the Triple Option.
Some of the position labelings in the following diagrams may be confusing. We don't use traditional X and Z designations. Instead, we have Field (F) and Boundary (B) WRs. Our slots (H and Y) can be running backs, wide receivers, or tight ends, depending on what we are trying to do. For the purposes of this article, we will refer to the slot who goes in motion as the H and the slot who is either the lead blocker for the Triple or the #2 Receiver in the PAP concept as the Y.
The Triple Option
We have taken the Air Raid's 3-Day Install plan and fit it to our offense. The 3-Day Install provides focus during training camp. For those not familiar with this model, we basically install our offense in 3 days as the name would suggest. We then go back and repeat our Day 1 Install on Day 4, adding formations and tags to certain concepts each time we go through it. We repeat our installation process three times before we begin specific preparation for our 1st opponent. Each installation has a set of skills that must be emphasized for each position in our offense, and this provides a roadmap for our position coaches as they plan their Monday, Tuesday, and Wednesday Indy periods during the regular season. On Day 1 we will install the Triple Option: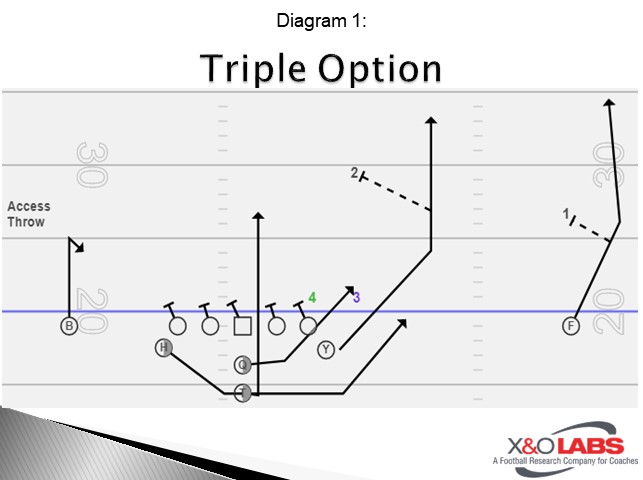 Assignments:
| | |
| --- | --- |
| PSWR: Elimination | PS Slot (Y): Elimination Seam |
| PST: Gap Block B-Gap to PSLB | PSG: Gap Block A-Gap to PSLB |
| C: Gap Block Backside A-Gap to BSLB | BSG: Fan the B-gap |
| BST: Fan the C-Gap | BS Slot (H): Sprint to Pitch Relationship |
| BSWR: Access Throw | QB/TB: Triple Mesh |
Our offense is designed to eliminate defenders from the point of attack and create space. Defenders are eliminated by blocking them, reading them, and/or deceiving them. Option purists will notice an outside-in count system, as opposed to the traditional inside-out Flexbone count. We've used both, but in the context of marrying the Triple with the PAP, it's helpful to count the defense from outside-in, as the old Wishbone teams did. Our WR will eliminate #1 (usually the CB) by running a Fade. Y will eliminate #2 by running a Seam route. The QB is typically responsible for reading #4 and pitching off #3, but that can vary based on how the defense aligns and reacts.