By Derek Katris
Head Football Coach
Elgin High School (OH)
Twitter: @CoachKatris
Editor's Note: In this report, Coach Katris describes how the Double Wing offense helped him re-build two programs. As he tells it, he and his staff were able to generate on-field success, increase player participation numbers and win more games. At the end of this report, we asked Coach Katris to discuss in more detail the impact the Double Wing had on the overall health of these two football programs.
I accepted the head football coach position at Briggs High School (Columbus, OH) in April of 2009 with only two years of experience as an assistant coach. The school only had one winning season since 1996 and a great deal of player and coach turnover. I attempted to install a spread offense my first season. We couldn't do much right and struggled to a 0-3 start. We couldn't score, could only inconsistently move the ball, and lacked offensive explosion. We finished the last seven games running a vanilla under center dive, trap, and off tackle series to try to come up with some sort of offensive identity. We finished 3-7 and averaged only 17.6 points per game. We had no offensive identity and lacked team toughness.
Along with the help of my offensive coordinator, my brother, Luke Katris, we found the double wing offense. It had everything we were searching for, however, most of all it gave us an identity. We introduced an offensive system built around the power play. We didn't need to be bigger, faster, or stronger to be competitive with this system. We believed that with the core philosophy of running power, blocking hard, and running hard for 5 yards every play we had a chance. We finished 6-4 and beat our rival in game #10. The double wing and its power play had helped us turn the program around.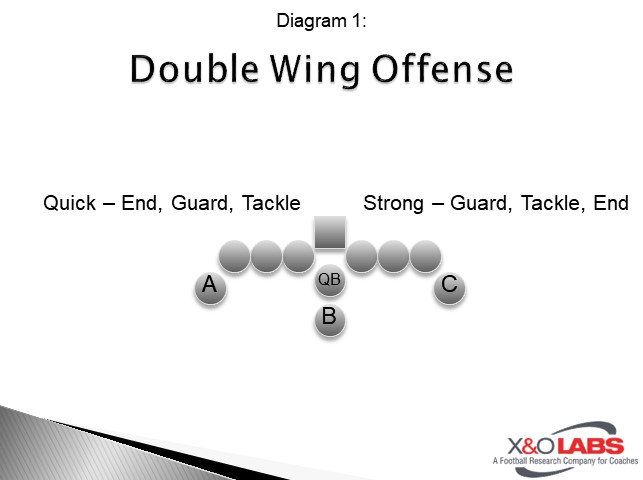 It all started with a concrete philosophy, running base double wing power, and building everything up from there. The philosophy formed an identity that everyone could believe in - always do one thing better than the other team (run power). We improved drastically as an offense and averaged 26.3 points per game in 2010. The offense produced even more the next season (2011), averaging over 31.4 points per game.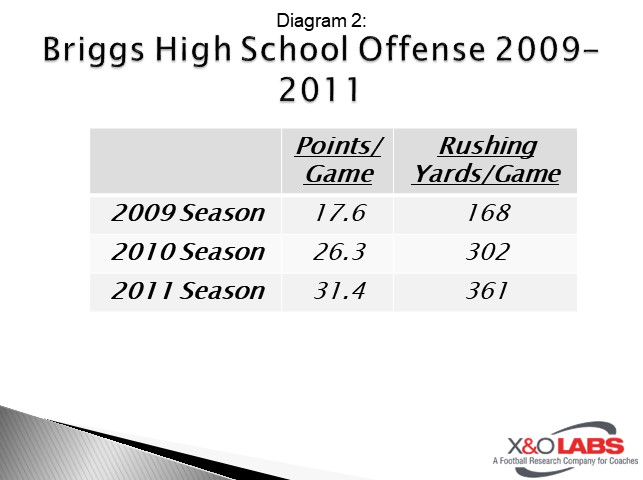 After the 2011 season I moved on and spent three seasons as an assistant at two different schools, guiding each as the offensive coordinator in the double wing offense. In the spring of 2015 I was blessed enough to get the opportunity to be the head football coach at Elgin High School (Marion, OH). Elgin was a school with great football tradition; however, it had fallen upon tough times. Low participation in football, no winning season since 2005, and continual turnover at head coach had taken its toll on the program.
The first two seasons we struggled mightily going 3-7 and 0-10, suffering through some very tough losses. We averaged only 18.3 points per game in 2015 and 17.2 points per game in 2016. Year three was the turnaround we had all hoped would come once our younger players grew up. We started 3-0, rushed for over 1,700 yards in those three games alone and set multiple state of Ohio rushing records. Game #1 (553 team rushing yards, #27 state of Ohio team single game rushing history) and Game #3 (688 team rushing yards, #6 state of Ohio team single game rushing history) were now in the record books for most rushing yards by a team in a single game. While later on adding #19 in the state record book with 584 yards rushing in game #9. No other team in state history is on the list more than one time. The season culminated with the school's first winning season since 2005. We averaged 46.6 points per game, 481 rushing yards per game, and converted 46/60 two-point conversions on the season. In addition, this past season we followed up last season's success with a more diverse attack. In the process of attaining the first back-to-back winning seasons since 1999/2000 at Elgin High School, we averaged 401 rushing yards per game. We also implemented more of a passing attack adding in 56 passing yards per game. Our scoring average was 45.4 points per game and we converted 41/62 two-point conversions.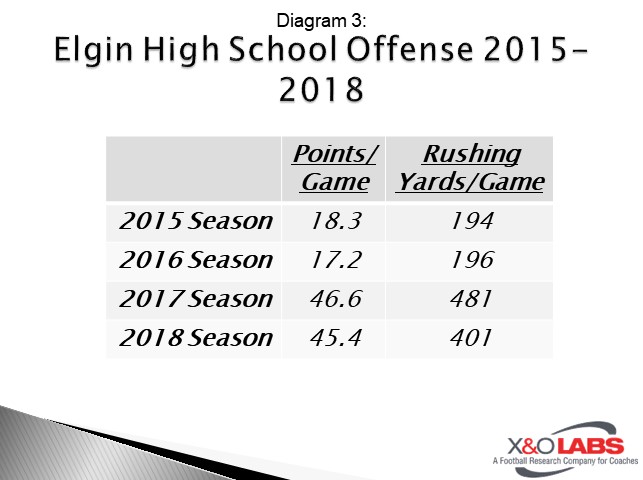 What is it about the double wing that allowed for this type of turnaround ability? Everything we do draws from the offense, whether it is in the weight room, film room, or practice field. The offense has literally steered our program from the depths of being one of the worst teams in the state to one of the best rushing offenses last football season in the state of Ohio. The kids own it, love it, and identify with it. When we line up every first play, tough play, and needed play we run power. We pride ourselves on execution, aggression, strength, and breaking tackles.
Very simply the Double Wing has allowed us to do three things very well: develop an identity as a football team, play fast with confidence, and give our players an advantage because they know how to execute against every imaginable front that we could face with very simple adjustments. Our players know from day one our identity of the football program is power. They understand how we win and what it takes to be successful because of our identity. We discuss our identity regularly and hold everyone accountable to it. Our players have very simple alignments, assignments, and techniques that are drilled daily. Through the simplicity and daily repetition our players are very confident and do not experience situations they have not practiced extensively before. I believe this is a very important facet of high school football; the more confident team that plays faster is usually the more successful team. Finally, we develop an advantage because there are only so many combinations of fronts that can be played against our base double wing alignment. By the end of August camp our offensive line and tight ends have seen it all.